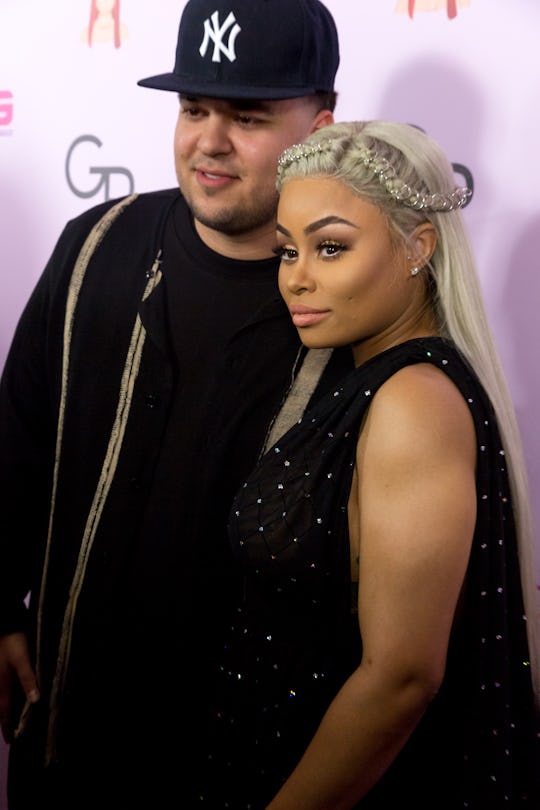 Greg Doherty/Getty Images Entertainment/Getty Images
Why Did Blac Chyna & Rob Kardashian Break Up? The Latest Rumor Is A Doozy
TMZ on Tuesday claimed that Blac Chyna and Rob Kardashian had split, just a month off from the impending birth of their first child together. Sources close to the Kardashians claimed that, save one dinner, the pair hadn't been speaking over the past few months, according to the outlet. So why did Blac Chyna & Rob Kardashian break up? The alleged break-up came to light as Kardashian's sisters were planning him a baby shower, which notably excluded Chyna from the invite list.
Chyna supported the idea of his-and-hers baby showers, TMZ claimed, but this didn't stop Kardashian from tweeting out his anger. His string of tweets began with him tweeting out his sister Kylie's phone number, assuring his followers: "I ain't hacked either this is rob dog [sic]." He followed this up by tweeting the number again. In his latest tweet, he explained his apparent anger: "Didn't invite the Mother of my child to a baby shower you all were trying to throw for me ? You all must have lost your damn minds."
Chyna hasn't yet tweeted any sort of response about the incident, as all of her most recent tweets have been private narrations of the couple's new reality show, using the hashtag #RobAndChyna. In her tweets, she gives every indication that they're still together. The day before Kardashian tweeted his baby shower drama, Chyna tweeted: "I wish that Rob would just own it and be comfy in his skin sometimes! I think he looks handsome."
This Monday on Snapchat, Chyna posted a My Story of white text on a black screen, informing her followers: "My baby shower is Sunday." Notable is her use of "my," not "our." As far as specifics go, it seems that Chyna is not yet willing to address any rumors, shower-related or not.
The last time that Kardashian and Chyna met up was, according to TMZ, for dinner before the premiere of E!'s Rob and Chyna, which debuted on Sept. 11. Kardashian live tweeted the event — a practice he's carried out several times since the show first aired. Many of his tweets express his love and admiration for Chyna, In one instance in particular, Kardashian responded to a fan's request that he relay a message to Chyna by saying that Chyna "say[s] she appreciates you." This indicates that, at the time of his tweet on Sept. 18, the two were still likely together.
New York Magazine speculates that Kardashian and Chyna are waiting to reveal their break-up for the sake of their show, keeping the image of their romance alive for now. With a few episodes remaining, it seems that we'll all have to wait a bit longer in order to know where the two really stand.
Representatives for Kardashian did not immediately return a request for comment.