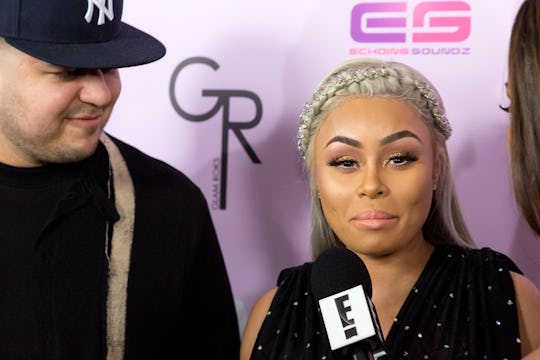 Greg Doherty/Getty Images Entertainment/Getty Images
Why Did Blac Chyna & Rob Kardashian Name Their Baby Dream? It's Unexpected
After celebrating a lavish baby shower decked out in a cloud theme, Blac Chyna has given birth to a baby girl. Little did her fans know the clouds were a hint at what she planned to name the baby. Why did Blac Chyna and Rob Kardashian name their baby Dream? They haven't said yet, but it's a beautiful name for a little girl sure to grow up in the spotlight.
According to Us Magazine, Blac Chyna gave birth via C-section at LA's Cedars-Sinai Medical Center, in the same ultra-luxurious birth suite Kim Kardashian used. The new baby's name, according to E! News is Dream Renee Kardashian, and she was born at just after 9 a.m. in Los Angeles and weighed 7 pounds, 5 ounces. "She is gorgeous and has tons of hair!" an anonymous source gushed to E! News.
The couple planned to document the birth of their daughter, Dream, for television, so Momager Kris Jenner improvised and reportedly hired an army or bodyguards to protect the baby from being photographed, TMZ said. Those pictures are going to be worth big bucks! The birth will also be televised on Dec. 18 at 8 p.m. Eastern Time, according to a press release from E!.
As for the family, everyone seems to be fine and in good spirits. "Everyone is doing great! Rob and Chyna are so happy to finally meet Dream," another source told ET.
The couple hasn't given specific details about the inspiration behind Dream, but a look back at their Oct. 2 cloud-themed baby shower indicates they had the name in mind for some time before the birth.
"The cloud theme was carried over in details from the invites down to the flowers, and to the cake, which was suspended from above on a cloud of balloons," a source told Us Weekly. "The flowers were made to look like clouds as a base for it to sit on."
The couple declined to attend a previous shower thrown by the Kardashian sisters because Rob was unhappy it was being filmed for Keeping Up With The Kardashians, according to Us.
Dream is Blac Chyna's second child. She shares a son, King Cairo, with her ex Tyga, who is now infamously dating Rob's sister, Kylie Jenner, according to E! News. It was seeing Chyna being such a wonderful mom to King that Rob credits with making him fall in love with her.
"I fell in love with her immediately because of how great of a mom she is," Rob wrote on Instagram Mother's Day about Chyna, according to E! News. "Now I'm looking forward to starting a family with her!"
Congratulations to Chyna, Rob, and the rest of the family, and welcome to the world of reality TV little Dream!