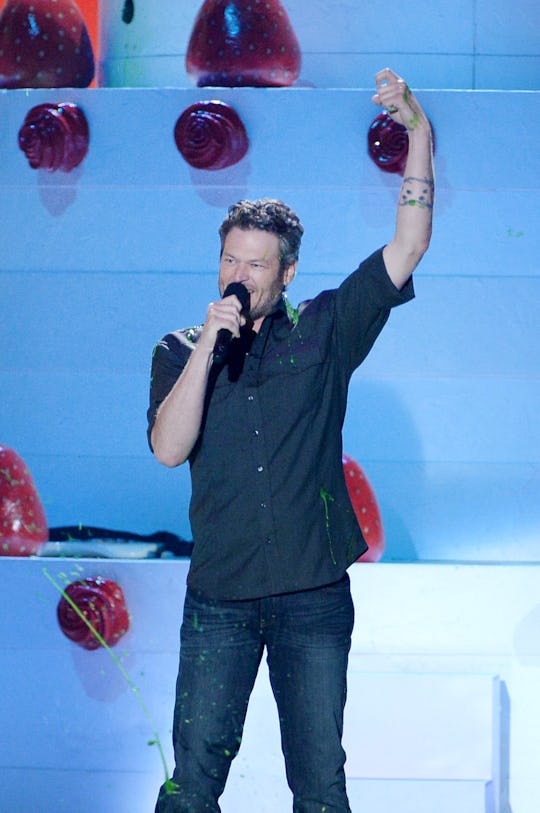 Kevin Winter/Getty Images Entertainment/Getty Images
Why Did Blake Shelton Open The ACM Awards? He Kicked Things Off With A Bang
Blake Shelton opened the ACM Awards on Sunday night, singing a very dramatic rendition of "Came Here to Forget." But why did Blake Shelton open the ACM Awards? He was originally meant to be hosting, but due to a busy schedule, it looks like he passed the torch on that honor and opened up country music's biggest award show with a performance instead.
Shelton fans were surprised when, in February, nominees were announced for the 2016 ACM Awards and Shelton's name was nowhere to be seen — for the first time since 2008, according to The Tennessean. Fans were definitely not pleased, and a few country music conspiracy theorists suggested the snub was due to Shelton's new relationship with Gwen Stefani, according to Inquisitr.
In his signature easygoing way, however, Shelton let the awards snub roll off his shoulders. "Oh well.... I just have to do better. Working on it now!" he tweeted, after a Taste of Country mentioned his visible lack of nominations. He did admit, however, that not receiving a single nomination hit him in the heart "a little bit."
He may not have been nominated for any awards, but his opening performance reminded viewers that he's definitely one of country music's most talented. Maybe that's exactly why he was chosen as the opening act.
Since Shelton just dropped his newest album, If I'm Honest, in May, I'm sure we'll see Shelton at the 2017 ACM Awards again — both on stage and on the list of nominees!