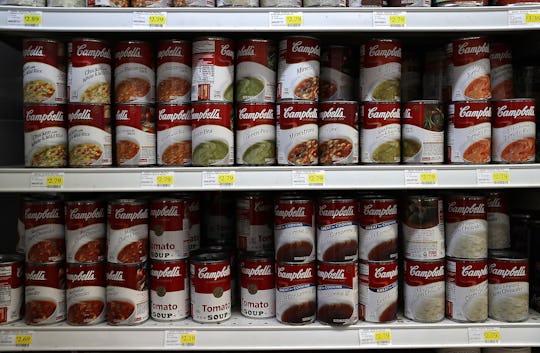 Justin Sullivan/Getty Images News/Getty Images
Campbell's Recalls Over 4,000 Pounds Of Chicken Soup
On any given day, even as we approach the warmer summer months, there really is nothing more comforting than a delicious bowl of soup. And what's not to like about it? It's not only good for you, it's soothing and tasty, and often brings back memories from your childhood. But as soup lovers head out to the grocery store today, they might want to double check their favorite Campbell's products, because the company recently pulled a popular item from store shelves. So why did Campbell's recall its chicken soup?
Luckily, you can likely can rest easy and not worry too much about it. The Campbell's chicken soup recall only affects one specific item — Campbell's Homestyle Healthy Request Chicken with Whole Grain Pasta — and was only recalled in one specific state, Florida. Campbell's recalled some 4,185 pounds of the chicken soup products in the state due to misbranding and undeclared allergens, according to the United States Department of Agriculture. Romper has reached out to Campbell's for comment and is awaiting a response.
The Campbell's Homestyle Healthy Request Chicken with Whole Grain Pasta soups were recalled because they contain milk, a known allergen, which was not declared on the product label. This is an understandable reason to recall any product and something consumers, especially those with allergies, should take seriously.
Campbell's was alerted to the problem after consumers found a different soup — Campbell's Homestyle Healthy Request Italian Style Wedding Spinach & Meatballs in Chicken Broth — in their mislabeled can, instead of the specific soup they originally purchased, according to The State. Luckily, according to Food Safety News, there have been "no confirmed reports of adverse reactions due to consumption" of the misbranded soup
To determine if your can of Campbell's Healthy Request Chicken with Whole Grain Pasta soup has been recalled, according to the USDA, look for the establishment number "EST .4R" on the bottom of the cans. And as a reminder, the affected cans were shipped to retail locations in Florida, so if you're outside the state, you likely won't be subject to the recall (though it never hurts to double check anyway).
So what should you do if you purchased one of these accidentally mislabeled, and now recalled soup cans? Toss it. According to The Miami Herald, Campbell's says that those who have the recalled soup should throw it away or return to to the location they purchased it from. According to the USDA, consumers are urged not to eat the soup.
Still have questions about the recall? Concerned customers are advised to call Campbell's at 866-400-0965 with any questions or concerns pertaining to the recall. Soup lovers, don't sweat this one too much — just be aware of what you're heating up on the stove before eating up.