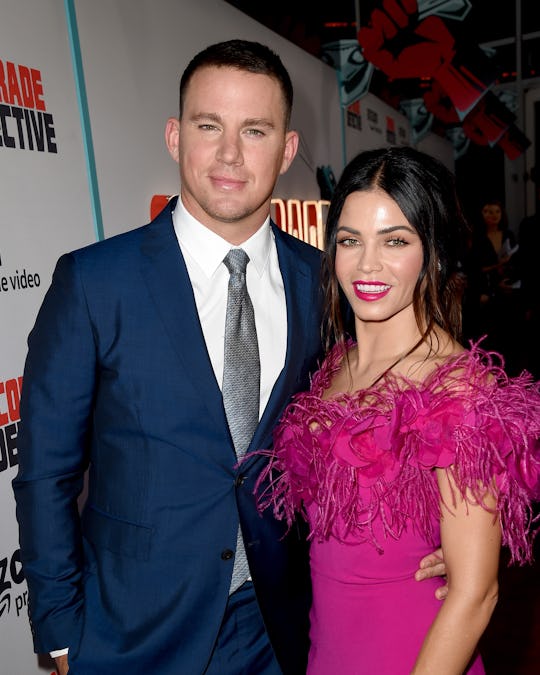 Kevin Winter/Getty Images Entertainment/Getty Images
Channing Tatum & Jenna Dewan Announced They're Separating After 9 Years Of Marriage
Yet another iconic Hollywood couple has called it quits, and it's breaking the hearts of fans across the nation. (As if the recent breakups involving Jennifer Aniston and Justin Theroux, Jennifer Garner and Ben Affleck, Chris Pratt and Anna Faris, and Angelia Jolie and Brad Pitt weren't soul-crushing enough.) But alas, it looks like our favorite Step Up stars are no more. So why did Channing Tatum and Jenna Dewan split up? The two are separating after nine years of marriage.
In a joint statement, Tatum and Dewan announced that they have decided to separate, People reported on Monday. "Hey world! So … We have something we would like to share," the statement begins. "First off, it feels odd that we have to share this kind of thing with everyone, but it's a consequence of the lives we've chosen to lead, which we also happen to be deeply grateful for. We're living in an incredible moment in time, but it's also a time where truth can easily get distorted into 'alternative facts.'"
It continued, "So we want to share the truth so you know that if you didn't read it here then it's most certainly fiction."
Both Tatum and Dewan confirmed the news with the same post on Instagram.
Editor's Note: The Instagram post has since been deleted.
The duo finally cut to the chase and spilled their earth-shattering news:
We have lovingly chosen to separate as a couple. We fell deeply in love so many years ago and have had a magical journey together. Absolutely nothing has changed about how much we love one another, but love is a beautiful adventure that is taking us on different paths for now. There are no secrets nor salacious events at the root of our decision — just two best-friends realizing it's time to take some space and help each other live the most joyous, fulfilled lives as possible. We are still a family and will always be loving dedicated parents to Everly. We won't be commenting beyond this, and we thank you all in advance for respecting our family's privacy. Sending lots of love to everyone, Chan&Jenna.
To say that Twitter was devastated at this shocking turn of events is an understatement.
Still, it's worth pointing out that divorce rumors had been swirling on and off in recent months. Like when Dewan attended the American Music Awards solo in November and her Instagram followers pounced on a red carpet photo with a million questions about their marriage, The Hollywood Gossip reported.
Or that time when Tatum seemingly attempted to shut the down divorce rumors with a heartfelt Instagram photo and message on his wife's birthday in December, CafeMom reported.
Editor's Note: The Instagram post has since been deleted.
A photo of the couple (seemingly) happy together was posted by Tatum on Instagram on March 18. But I guess that just goes to show how deceptive social media posts can be.
Editor's Note: The Instagram post has since been deleted.
Still, there have been other subtle warning signs that Tatum and Dewan's relationship wasn't the perfection everyone assumed it to be. In an interview with Health magazine, the World of Dance star opened up about this fact. "When people say, 'You guys have such a perfect life,' I want to scream and tell them, 'No one's perfect,'" she said, according to Entertainment Tonight. "I think there are such things as great fits. It is a great fit as long as you are growing together, and I think up until this point we've really grown together. Even if one starts to grow, the other catches up and vice versa." Dewan continued:
But I think a couple needs to be conscious and to want to do the work and be willing to look at the parts of you that need work. Both of us have been pretty aware and willing to do that. We've always had the same values. But we're not perfect! Are you kidding? We fight like other couples, we disagree about things, we have days where we don't really like each other.
If you remember, Dewan and Tatum first met during their auditions for Step Up. And seriously, they had amazing chemistry during the movie itself.
In a December interview with Cosmopolitan, Dewan even opened up about how they ended up together. She told the magazine:
It was two nights of being weird. We hadn't even kissed. And then he went out partying with a bunch of dancers. His room was right above mine, and he came down drunk with a sombrero on, banging on my door. He was like, "I couldn't stop thinking about you. Let's do this. I just want to be with you." From that point forward, we were together.
The pair ended up marrying in 2009, and they have a 4-year-old daughter together named Everly.
It might be hard to digest this news, but it certainly doesn't seem like there is any bad blood between them, as they shared that they "lovingly" came to this decision together. "No secrets nor salacious events" are to blame, rather it seems like two people have sadly just grown apart and want what's best for each other moving forward.
Check out Romper's new video series, Bearing The Motherload, where disagreeing parents from different sides of an issue sit down with a mediator and talk about how to support (and not judge) each other's parenting perspectives. New episodes air Mondays on Facebook.