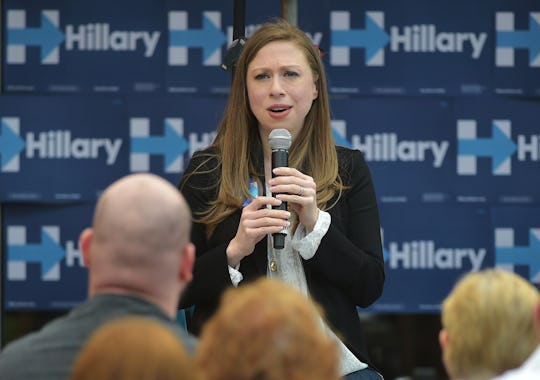 MANDEL NGAN/AFP/Getty Images
Why Did Chelsea Clinton Name Her Baby Aidan? It May Have To Do With The Meaning
Looks like there's a new member of Team Hilary. Chelsea Clinton, daughter of the presumptive nominee of the democratic party Hilary Clinton, has welcomed her second child into the world. Though it's unclear exactly when the child was born, Chelsea revealed her son's birth in a very sweet tweet that simultaneously announced his name. "Marc and I are overwhelmed with gratitude and love as we celebrate the birth of our son, Aidan Clinton Mezvinsky." This tweet has led many to wonder why Chelsea Clinton names her baby Aidan.
Before you being your fall down the Wikipedia rabbit hole, the name Aidan doesn't seem to hold any historical significance for either the Clinton or Mezvinsky families. A quick google search shows that Aidan Clinton Mezvinsky is simply the second child for Chelsea and her husband. So why the name?
Well, it's possible that the Clinton-Mezvinsky family simply liked the name. (I know, so weird to imagine right that picking a baby name is that simple) But the meaning behind this gender-neutral name is one that could set the future first grandson up to have a great personality later in life. Based in Irish roots, the the name Aidan means "little and fiery," according to Nameberry. And if you're going to potentially spend your life in politics, you want to have a little fire in you right?
Clinton also may have chosen the name because it is unique. Although the name seems to be very popular, Aidan is only ranked number 124 on the Social Security list for popular names. And when you're the grandchild of the could-be first female president of the United States, you probably want a name that stands out, right?
But there's another reason Clinton may have chosen this seemingly unpopular name for her son. It's possible that Clinton is trying to subtly show her love for Sex and the City. More specially, the beloved character of Aidan.
OK, I'll admit, this may be a bit of stretch. Clinton has never gone on record saying she is a fan of or has even watched Sex and the City. (Come on though; she's a 36-year-old woman. She's probably seen an episode or two.) But given the fact that her daughter Charlotte also shares a name with a Sex and the City character makes you wonder, right?
Regardless of why Clinton chose this particular name, it is a truly beautiful one. And there are more important questions to ask. Like whether or not Aidan's first will be "I'm with her."