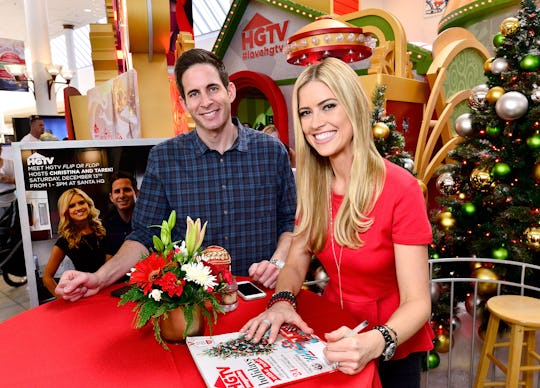 Jerod Harris/Getty Images Entertainment/Getty Images
Why Did Christina & Tarek El Moussa Get Divorced?
For HGTV Flip or Flop stars Christina and Tarek El Moussa, the past year has been full of some major ups and downs. Despite the success of their home improvement show, their personal lives have also made headlines. Why did Christina and Tarek El Moussa get divorced? It all depends on who you ask. Christina and Tarek filed for divorce in January, a month after separating, according to Entertainment Tonight. Specifically, it was Tarek who filed for divorce after the pair announced a separation in December 2016. According to Tarek, he cited a lack of communication between he and his wife of eight years, adding that the busyness of Flip or Flop and the reality TV life began to take its toll on them, he said in a March appearance on The Doctors.
Meanwhile, Christina alleges it was Tarek's bout with thyroid cancer, as well as infertility and a miscarriage that just added to mounting communication problems over a short period that sent their marriage into a downward spiral. Christina told People in February that she returned to work too soon after the birth of their son Brayden in 2015. "It was too soon for me. I was overwhelmed. The tension between me and Tarek was high." Tensions got so bad, according to Christina, that "it got to the point where we weren't even driving to set together," she said. "We weren't able to properly communicate anymore."
Christina and Tarek have two children — a daughter, Taylor, who is 6, and a 20-month-old son, Brayden. After news of their split first broke, more shocking news seemed to follow. While they issued a joint public statement announcing their separation last December, Christina and Tarek separated in secret eight months prior to their divorce, they revealed to People. Tarek also revealed he fought a second secret battle with testicular cancer.
Despite their divorce, HGTV renewed Flip or Flop for an eighth season, according to Entertainment Weekly. Tarek shared the announcement from his Instagram account, and seemed just as surprised as fans were by the news. "Regardless of the situation, our job is to flip homes and create a TV show for people to enjoy around the world," he said in the caption. In a statement to People, Christina said, "Tarek and I have been working together for a long time and we look forward to continuing to work together on Flip or Flop."
For now, it would seem they are able to put their marital differences aside for the longevity of their show — for now. Fans will have to wait and see just how Season 8 of Flip or Flop will play out for the couple.