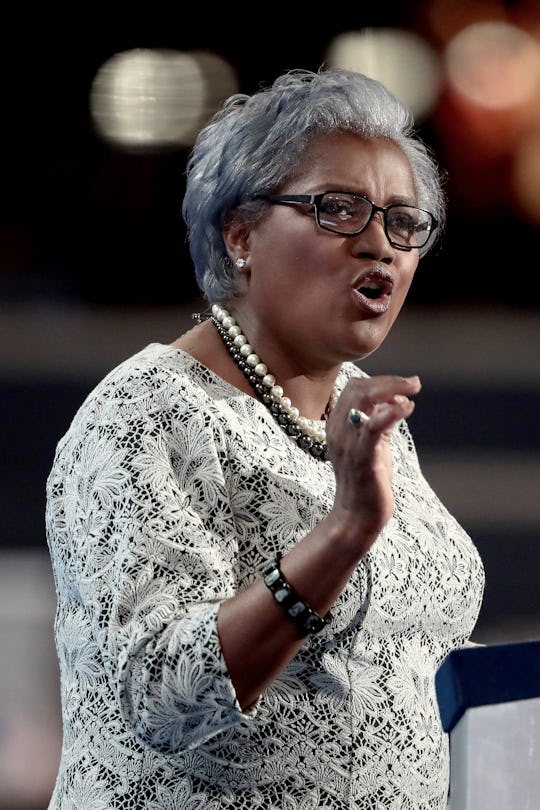 Drew Angerer/Getty Images News/Getty Images
Why Did CNN Cut Ties With Donna Brazile? The DNC Chair Reportedly Made A Major Mistake
Earlier this month, Donna Brazile, the acting chairwoman of the Democratic National Committee, resigned from her role as a CNN commentator, the network announced Monday. As Election Day is just a week away, the abrupt separation between the network and the political analyst have many asking important questions. So why did CNN cut ties with Donna Brazile? Leaked emails reportedly show that she made a major mistake in relation to her involvement with former Secretary of State Hillary Clinton's campaign.
CNN announced on Monday that Brazile's resignation from the network — which CNN accepted on Oct. 14 — was due to information that had emerged from newly hacked emails, which revealed that Brazile had shared debate questions in advance with the Clinton campaign.
According to a CNN statement, the network was "completely uncomfortable with what we have learned about her interactions with the Clinton campaign while she was a CNN contributor." It also noted that CNN "never gave Brazile access to any questions, prep material, attendee list, background information or meetings in advance of a town hall or debate."
Brazile's resignation comes three days after Wikileaks published a leaked email reportedly written by the former commentator. In the email, she allegedly wrote, "From time to time I get the questions in advance."
In a statement published on Oct. 11, Brazile denied the reports that she had given the Clinton campaign advance notice about debate questions. She wrote:
As a longtime political activist with deep ties to our party, I supported all of our candidates for president. I often shared my thoughts with each and every campaign, and any suggestions that indicate otherwise are simply untrue. As it pertains to the CNN Debates, I never had access to questions and would never have shared them with the candidates if I did.
But, on Monday, Oct. 31, CNN reported that Wikileaks released additional emails that further indicate that Brazile's alleged involvement with the Clinton campaign. In the newly leaked email, she reportedly sent a question the night before the March 6 CNN primary debate in Flint, Michigan to Clinton's communications director Jennifer Palmieri.
Brazile reportedly wrote in the email — which was titled "One of the questions directed to HRC tomorrow is from a woman with a rash" — that the woman's family "has lead poison and she will ask what, if anything, will Hillary do as president to help the ppl of Flint."
CNN also reported Brazile later wrote: "I'll send a few more."
While Clinton's campaign has not yet publicly addressed Brazile's resignation from CNN, many have cautioned that the allegedly hacked emails could prove to be forged or fake documents. But, CNN has said that Brazile "will not be returning to the network at all," regardless.
Brazile vaguely addressed the news in a tweet on Monday morning. She wrote, "Thank you @CNN. Honored to be a Democratic Strategist and commentator on the network. Godspeed to all my former colleagues."