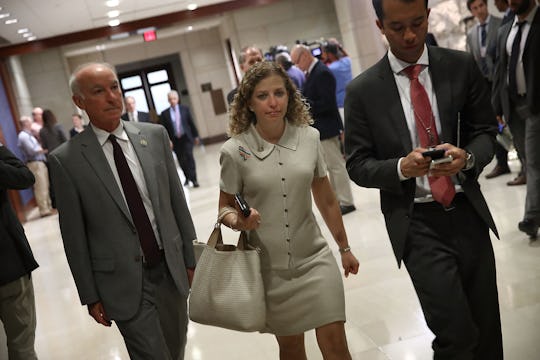 Win McNamee/Getty Images News/Getty Images
Why Did Debbie Wasserman Schultz Resign As DNC Chair? Her Departure Has Made Waves
In a surprising move on Sunday, Debbie Wasserman Schultz announced that she would resign from her position as Democratic National Committee chair at the end of the Democratic convention, which kicks off on Monday. Her resignation is a result of the release of internal DNC e-mails by Wikileaks that allegedly show Democratic party officials attempting to aid the Clinton campaign during the primary election. So why did Wasserman Schultz resign and what will be the fall-out?
Despite the leak and her impending resignation, Wasserman Schultz will still open and close the convention to "address our delegates about the stakes involved in this election not only for Democrats, but for all Americans," according to a statement obtained by Vox. The leak has left the democratic party divided once again on the eve of the convention. The emails obtained and released by Wikileaks appear to reveal high level DNC officials conspiring against Bernie Sander's presidential campaign.
Less than two weeks after Clinton's primary rival Bernie Sanders pledged his support to the presumptive democratic nominee after a long, fierce competition, the Vermont Senator openly called for Wasserman Schultz's resignation and an overall reform of the DNC in an interview with CNN. Sanders called for her resignation not only for her prejudice during the primaries, but because he wants to see new leadership that "will help open up the party". While Sanders vowed that he will continue to support Clinton in her fight against Donald Trump, there are many who remain skeptical about the current state of the DNC at a time when party unity is needed.
Republican nominee Donald Trump was quick to weigh in on the situation with a series of Tweets.
While Wasserman Schultz and Bernie Sanders are at odds over the email leak, they are both taking time to implore their followers to continue to come together as a united Democratic party. In her statement to Vox, Wasserman Schultz called for "the strong support of all Democrats" during the convention, while Sanders reminded his loyal supporters that his first and most important message to them is stop Trump from being elected. Both Wasserman and Sanders will continue to campaign for Clinton throughout the election, showing their supporters that it is possible to work through differences and unite under a common goal.
This story is developing and will be updated.