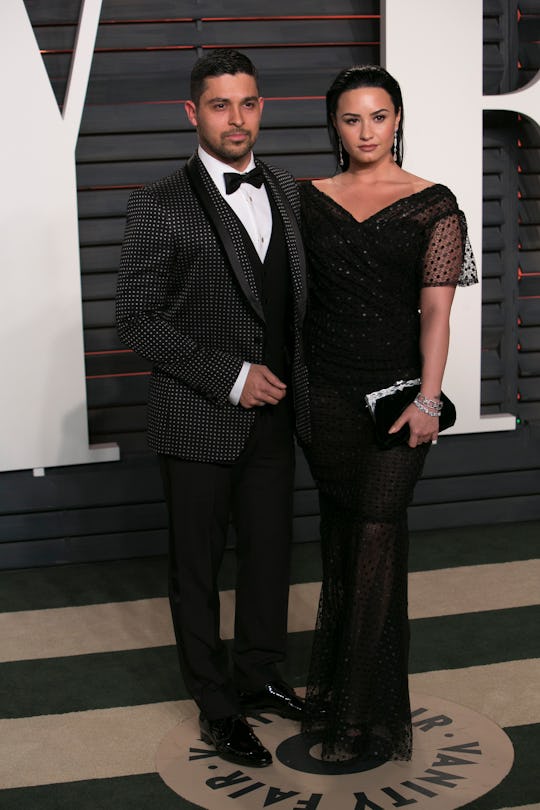 ADRIAN SANCHEZ-GONZALEZ/AFP/Getty Images
Why Did Demi Lovato & Wilmer Valderrama Break Up? They Are Still On Good Terms
It seems to be the summer of break-ups, and we're only a few days into the season. First, Taylor Swift and Calvin Harris reportedly broke up, then rumors of a Gigi Hadid and Zayn Malik began stirring, and now it seems that Demi Lovato and Wilmer Valderrama have split. The split comes as rather shocking, since the couple has been together for six years. But, based on the statement the couple has jointly released, they'll still remain friends even after the split.
The couple first got together when Lovato was 18, after Lovato entered rehab for her emotional and physical struggles, People reports. Entertainment Weekly says that the two were last seen together at the Billboard Music Awards on May 22. Their six year relationship came to an end when both Valderrama, 36, and Lovato, now 23, posted on social media the same statement of a note screenshot.
In the statement, the two addressed their long relationship and note that it was a "difficult decision" for both of them. The silver lining in the statement, which fans should find some solace in, is that they say they are "better as best friends," which at least gives us a hint that they didn't end on terrible terms. You can read the entire statement, posted on Lovato's Twitter account, below.
The two have been very public about their love for each other in the media since their relationship began. In February, Lovato addressed engagement rumors on The Ellen Degeneres Show, joking that she "doesn't see a ring," but she wouldn't mind if she saw one, hinting that she was ready to move the relationship forward."There's a time for everything," she told DeGeneres. "We've been together this long and obviously I'm not going anywhere and vice versa."
With this in mind, the break-up does come as a bit of a shock. To fans, it seemed like the two were heading towards the next step, but clearly something wasn't working for them. You have to admire the fact that they did what was best for their relationship, but still seem to have the same admiration and respect for the other moving forward. Hopefully we'll see that they do remain friends in the future. It isn't easy, but they both seem to be supportive of the other, as they both posted in their statement.