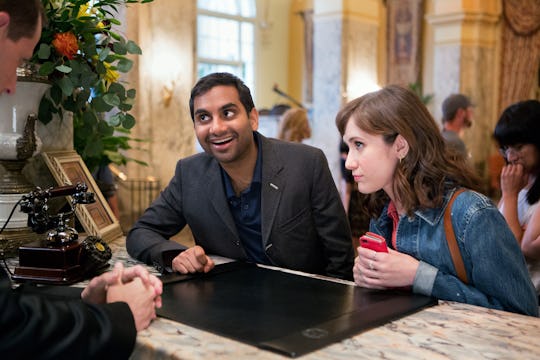 K.C. Bailey/Netflix
Dev & Rachel Went Through A Painful Split On 'Master Of None'
Master of None returns to Netflix this month after being positively showered with accolades for its first season. Co-created by Aziz Ansari and Alan Yang, who both co-star on the show as well, the half-hour comedy snagged a Peabody Award in 2015, to say nothing of its entertainment industry awards. The first season left Dev finally embracing uncertainty about his future in a remarkably uplifting way, considering his usual anxieties around indecisiveness. But it also left him on his own after the dissolution of a relationship. So why did Dev and Rachel break up on Master of None? It was a painfully real glimpse at modern dating.
In the season finale (cleverly titled "Finale"), Dev catches himself at a wedding with Rachel fantasizing about what his vows to her might sound like. Unfortunately, they were pretty bleak as he realized, subconsciously at least, that their stable relationship might only be on its current trajectory simply because they're at the age when people are supposed to settle down and get married. Dev realized that, while there's nothing really wrong with the relationship, it doesn't exactly measure up to the head-over-heels in love couple professing their wedding vows before him. This is where things started to unravel.
He had a big movie premiere (Dev is a middling, but working actor) to which he took Rachel and all his friends, but he ended up getting cut from the film. At the afterparty, Rachel got wasted and berated the director for cutting Dev, which only humiliated him even further. It was definitely not cool, and things became tense between them following the confrontation. Then, Dev had the brilliant idea to play a game with Rachel in which they revealed how secure they felt about the relationship to each other. Spoiler alert: it was not a good game. A huge blowout ensued when Dev revealed he was only 80 percent sure, and Rachel left the apartment they shared to go stay with a friend for a few days.
Eventually, she returned to finalize the breakup and told Dev she was moving to Tokyo to squeeze the last few drops of adventure from her 20s. Dev responded in kind by moving to Italy to study pasta-making in culinary school. These diverging paths are where we left Dev and Rachel as the season finale came to a close. So will Season 2 see some growth from both of them and a reunion? Noël Wells isn't slated to return for the second season, so it seems as though Dev may have moved on. It'll be interesting to see how he approaches relationships after a drastic career change and soul-searching mission to pasta school, however.
You can catch Master of None Season 2 when it drops on Netflix May 12.