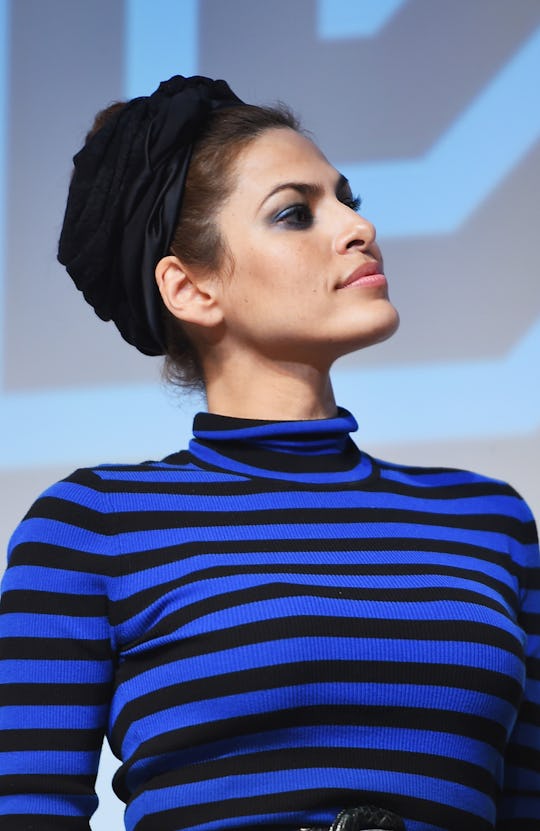 Michael Loccisano/Getty Images Entertainment/Getty Images
Why Did Eva Mendes & Ryan Gosling Name Their Baby Amada? It Sounds Oddly Familiar
Well, that was a surprise! Eva Mendes and Ryan Gosling pulled a quick one on the paparazzi and welcomed their second child... two weeks ago, according to TMZ. Amada Lee Gosling was born April 29 at 8:03 a.m., according to a birth certificate obtained by TMZ. The couple are already parents to their elder daughter, 20-month-old Esmeralda Amada. So why did Eva Mendes and Ryan Gosling name their baby Amada if they've used it once before?
As it turns out, the name actually has family significance. "Amada was my grandmother's name. It means 'beloved' in Spanish," Mendes explained to People in 2014. The couple picked their first Esmeralda for their first daughter because it means "beautiful emerald" in Spanish and Mendes wanted her Hispanic heritage to be represented in the first and middle names and to take Gosling's surname, according to a report from E! in 2014.
The couple has now seemingly managed to keep both of the pregnancies a secret from the public eye for several months, having spent the first two months in apparent seclusion after the birth of their first daughter. Known for keeping their personal lives private, the star couple has continued to keep their elder daughter out of the spotlight since her birth. Throughout both pregnancies Mendes too kept an extremely low profile — and even Ellen Degeneres' charm couldn't break her silence in an appearance in 2014.
In Mendes' first interview after giving birth to Esmeralda with Violet Grey, she explained her desire to keep her daughter out of the spotlight:
Ryan and I decided early on to give her as much privacy as we could. And my pregnancy was the first opportunity to give her that. Whether we like it or not, privacy is going to be very difficult for Esmeralda. I think it's unfair, but that's our reality.
Gosling and Mendes are obviously a very famous and very attractive Hollywood couple and the public eye wants to see just how beautiful their A-list offspring will be. And celebrity or not, everyone deserves to be granted privacy when they need and want it, especially during this magical and intimate family moment. Of course, paparazzi come with being a public personality. However, giving their children an opportunity to live their lives as only themselves — not just the children of a high profile couple — is admirable, albeit quite difficult.