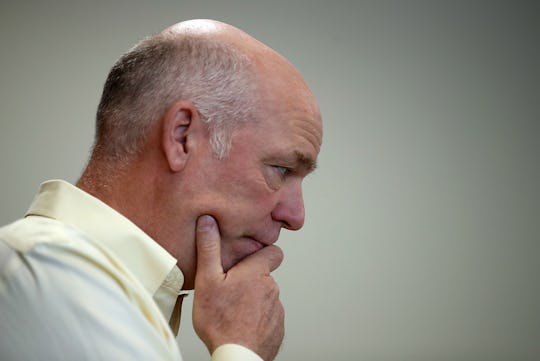 Justin Sullivan/Getty Images News/Getty Images
Why Did Greg Gianforte Allegedly Assault A Reporter?
Voters in Montana head to the polls Thursday in a special election to fill the House seat left by Rep. Ryan Zinke when he became the U.S. secretary of the interior. Montana businessman Greg Gianforte is the Republican's sole candidate on Thursday's ballot, facing off against Democrat candidate Rob Quist. In an interview at Gianforte's campaign headquarters on the eve of the election, things got downright ugly, when Ben Jacobs, a reporter for British outlet The Guardian, claims he was assaulted by the 56-year-old candidate. Why did Greg Gianforte allegedly assault a reporter? He will have to answer that in court, as the Gallatin County Sheriff's office has charged Gianforte with misdemeanor assault.
While representatives for Gianforte did not immediately return Romper's request for comment, campaign spokesman Shane Scanlon released a statement late Wednesday night. "Jacobs grabbed Greg's wrist" sending them both to the ground, according to the Gianforte campaign statement. However, Jacobs claims Gianforte had "body slammed" him and broke his glasses. The incident was witnessed by several fellow journalists and was captured on audio, all of which contradict Gianforte's account of what happened. In an audio recording of Gianforte's alleged assault, he can be heard shouting at Jacobs, "I'm sick and tired of you guys!" just as the scuffle ensues.
So what exactly provoked such a response from Gianforte? Jacobs reportedly attempted to ask the candidate about his thoughts on the Congressional Budget Office's score of the health care bill passed by the House earlier this month. As heard in an audio recording of the assault, Jacobs could barely finish his question before Gianforte allegedly grabbed the reporter and threw him to the ground. "The last guy that came in here, you did the same thing!" Gianforte can be heard screaming at Jacobs, before shouting, "Get the hell outta here!"
Three reporters for FOX News reportedly witnessed the incident as it unfolded in Gianforte's campaign office. One of these reporters was Alicia Acuna, who shared in graphic detail what she witnessed Wednesday night, standing just "2 feet" away from Gianforte and Jacobs when the incident happened. Acuna alleged to FOX News Thursday morning that Gianforte grabbed Jacobs by the neck with both hands before body slamming the reporter to the ground and punching him.
While there's no video to show exactly what happened, Gallatin County Sheriff Brian Gootkin told reporters in a press conference his office "determined there was probable cause to issue a citation to Greg Gianforte for misdemeanor assault." Per the citation, Gianforte is scheduled to appear in court between now and June 7, CNN reported. According to Montana law, if convicted of misdemeanor assault, Gianforte faces up to a $500 fine and up to six months in jail.
The alleged assault of a reporter by a political candidate is beyond concerning, especially in an era when President Trump labeled the media "the enemy of the people" just a month into his term. There's a big difference between attacking the media in how they cover a story and physically throwing a man to the ground for just doing his job. Gianforte surely knows this, and yet, on the eve of his own election, crossed a line that should raise alarms for every journalist covering American politics.