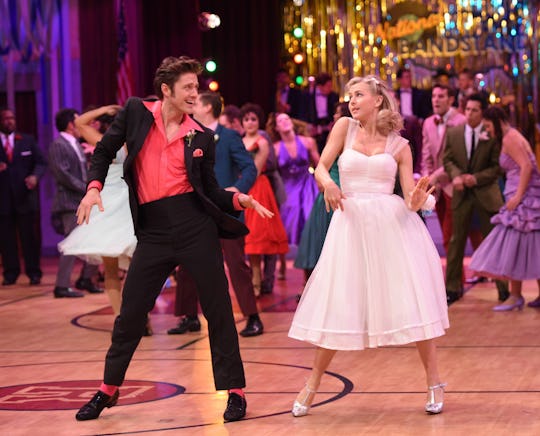 Michael Becker/FOX
Why Did 'Grease: Live!' Lose Sound? Maybe The Hand Jive Was Too Hot To Handle
Just as the world got ready for some serious moves in the hand-jiving competition in Grease: Live, the audio cut out entirely. The official Grease: Live! crew sent out the briefest of explanations on Twitter, basically attributing the audio cut to an error. Since the entire musical is happening on a live broadcast, it was bound to happen, and all in all, things could have been worse than just a few seconds of Joe Jonas' singing disappearing. The network decided to have a live audience integrated into some scenes of Grease: Live!, which offers way more potential problems than a brief blip in the audio feed. It also means the audience got to deliver a few lines, make up the background of the cheerleading tryouts, and fill in the bleachers.
However, for a few seconds, everyone on Twitter was wondering if they were missing the Rydell High hand jiving tunes, and if it was going to continue. They decided to cook up some theories of their own on why the audio feed cut. I assumed it was just a rowdy extra getting too excited about the dance competition, but Twitter had some theories, too.
Grease: Live's version of the audio cut:
Versus Twitter's version of the audio cut:
Somewhere, an intern just got fired.