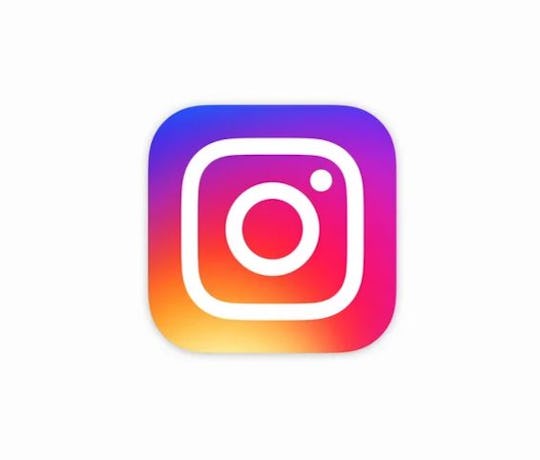 Courtesy of Instagram
Why Did Instagram Change Its Logo? Users Have So Many Feelings
Everybody remain calm. I hate to be the bearer of bad news, but Instagram has changed its logo, and there's not a thing we can do about it. I'm sorry! It gets worse – that's not the only change the app has in store. On the company's blog, Instagram explained the new logo: "Inspired by the previous app icon, the new one represents a simpler camera and the rainbow lives on in gradient form." It also made liberal use of words like "color" and "vibrant," leading me to believe that someone (Mark Zuckerberg? A focus group?) thought that the old logo was too dull. To be fair, it was designed to look like a camera from the 1960s, a decade that was awash in nothing but brown, rust orange, and avocado green. It did its job, is what I'm getting at.
But Instagram has evolved over the past five years. It's no longer just an app for layering filters over iPhone pics to make them look like they've been cracked and faded by time (and really, why was that ever a thing?). It's finally, truly, a 21st century product, and it's high time that its logo evolved to reflect that.
Within the app, Instagram boasts a "simpler design" that "puts more focus on your photos and videos," which I didn't realize was an issue before, but those app designers need to get paid for something, so that's fine by me. The screenshots they share look identical to the old version, although I'm only a casual user.
Of course, the new logo and app redesign could be serving as a distraction from another big change to Instagram, the algorithm users were promised back in March. When Instagram, which is owned by Facebook, initially announced plans to change the feed from reverse-chronological to algorithm-based, prioritizing the posts that users would ostensibly enjoy the most, people lost their damn minds. A Change.org petition was created almost instantly. Instagram quickly backed down, tweeting that "nothing is changing with your feed right now," and promising to let users know "when changes roll out broadly." Well, some changes just rolled out, and Instagram let people know. Could the relatively minor changes to the logo and design be a smoke screen intended to quell the screeches of those users who can't accept change, and make demands of a product they don't even pay for? Could be. Or maybe it's just a new logo.