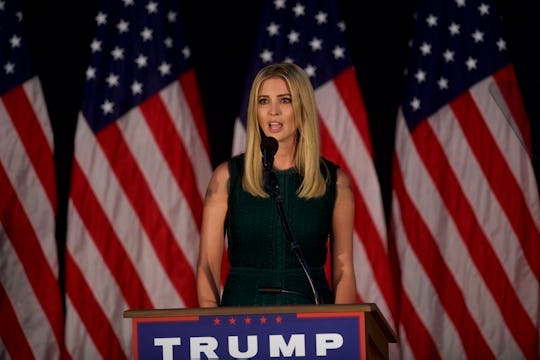 Mark Makela/Getty Images News/Getty Images
Why Did Ivanka Trump Cut Off An Interview About Her Father's Family Leave Policy?
It's possible that Republican presidential nominee Donald Trump would not have a child care plan without daughter Ivanka Trump's influence. The pair debuted the strategy on Tuesday during a joint appearance, and The Wall Street Journal published Ivanka's op-ed detailing the proposed policy changes. But when a Cosmopolitan reporter pressed Ivanka on the plan during an interview Wednesday, The Trump Organization's Executive Vice President of Development & Acquisitions seemed to bristle at the line of questioning and appeared to end the interview early. So why exactly did Ivanka Trump cut off an interview about her father's family leave policy?
The prospective first daughter reportedly felt that the "negativity" in the questions was unwarranted, according to CNN. Ivanka's representation did not immediately respond to Romper's request for comment on the interview.
Update: Ivanka Trump tweeted Thursday about the Cosmopolitan interview, BuzzFeed reported. Her three tweets read:
1/3: Politics aside, I'm working to raise awareness on issues that are of critical importance to American women and families.
2/3:Regardless of who you support, policies benefiting women+families are becoming topics of mainstream conversation & that's a good thing.
3/3:@Cosmopolitan, your readers do & should care about issues impacting women & children. Keep the focus where it belongs—advocating change.
Ivanka reportedly played a key role in encouraging her father to develop a child care plan and maternity leave policy; According to New York Magazine, Trump said Ivanka pushed "so hard for [the policy]." When the campaign released full information on their position, she stepped up to explain it to voters. Ivanka's opinion piece in The Wall Street Journal emphasized the importance of paid maternity leave in closing the wage gap:
We all agree that women should have equal pay for equal work, but that's not enough. The lack of quality, affordable child care is one of the biggest challenges facing American parents.
Ivanka breaks Trump's plan into five parts: rewrite the tax code to make child care and elder care expenses deductible from income tax while using the Earned Income Tax Credit (EITC) to make rebates accessible to families "who don't pay income tax"; create Dependent Care Savings Accounts; decrease or eliminate federal regulations biased against non-institutionalized child care; incentivize companies to offer on-site child care; and, in Ivanka's words, "guarantee, for the first time, six weeks of paid maternity leave." On paper, the plan has the potential to greatly increase quality of life and financial stability for working parents. But as with any plan released by a presidential candidate, members of the media questioned the specifics.
During the Cosmopolitan interview with Ivanka, Senior Writer Prachi Gupta started off by asking her why it took "so long" for Donald to release his plan when Democratic presidential nominee Hillary Clinton began detailing hers more than a year ago. She segued into questions about who exactly Donald's plan would help, asking why the campaign opted to exclude paternity leave from their policies and clarifying whether men in a same-sex relationship would be eligible for leave after adopting a child (Ivanka responded to the latter by explaining that they're "focusing on mothers" for the moment).
Gupta's next question changed the tone of the conversation:
In 2004, Donald Trump said that pregnancy is an inconvenient thing for a business. It's surprising to see this policy from him today. Can you talk a little bit about those comments, and perhaps what has changed?
Ivanka's reply was unsurprisingly prickly:
So I think that you have a lot of negativity in these questions, and I think my father has put forth a very comprehensive and really revolutionary plan to deal with a lot of issues. So I don't know how useful it is to spend too much time with you on this if you're going to make a comment like that.
Ivanka went on to say that Trump had a long history of supporting working women and helping them to "thrive" at his company. Gupta offered an apology that the questions struck Ivanka as "negative," adding that she felt she was warranted in bringing up Donald's earlier comments on pregnancy. In response, Ivanka noted, "Well, you said he made those comments. I don't know that he said those comments." After Gupta provided her source, a 2004 NBC interview, she attempted to move on to another topic when Ivanka said:
I think what I was — there's plenty of time for you to editorialize around this, but I think he put forth a really incredible plan that has pushed the boundaries of what anyone else is talking about.
Gupta returned to the plan for one more question, asking about Donald's strategy to finance maternity leave and child care initiatives nationwide. Ivanka said that paid leave is "self-financing" and mentioned that Trump's full tax-reform plan (not released at the time of the interview) would provide more information. She finished her answer by saying, "I'm going to jump off, I have to run. I apologize."
Ivanka's strong reaction to questions and her decision to abruptly end the interview surprised those familiar with her even-tempered response to most reporters' questions. As the campaign closes in on Election Day, there is little doubt that all members of the Trump and Clinton families will need to be prepared for escalating inquiry into the ins-and-outs of policy positions.