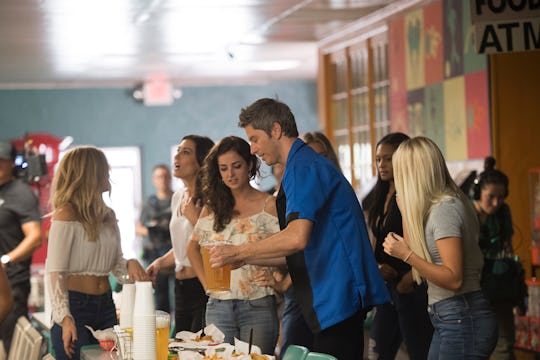 Paul Hebert/ABC
Jacqueline Made A Really Tough Decision On 'The Bachelor' & It'll Break Your Heart
I cannot believe next week's episode of The Bachelor is hometown dates: it's getting real at this point. Jacqueline felt that on Monday night's episode, and decided to back out of the competition. So why did Jacqueline leave The Bachelor? She was unsure about her standing with Arie and went as far as to see him in his hotel room to talk about it.
I feel like Jacqueline going home on her own accord is the first difficult elimination of the season. I'm going to be honest, though: I don't know Jacqueline at all. I know she's had a solo date with Arie where he learned more about her life and goals, but in terms of other contestants—like Bekah and Tia, for example — she definitely received the least amount of screen time.
One reason she left was because she was afraid of waking up one day in Scottsdale, married to Arie, and wondering how she got there. Now, she was really projecting there: not only did she not have the Neil Lane ring on her finger yet, but she doesn't have to go through anything she wants to! Doesn't she know that the majority of Bachelor relationships don't work out? Regardless, Jacqueline didn't feel ready—which is 100% rational, but Arie thought it may have been influenced by her life plans.
Editor's Note: The Instagram post has since been deleted.
Jacqueline is a 26-year-old research coordinator from Morgantown, Vest Virginia. She's going for her PhD, meaning she has six years of schooling left. Last week, Jacqueline had a one-on-one date with Arie where she laid out her education plans — and Arie said that he's worried some contestants are too smart for him (he's right, but that's not the point). While Jacqueline received the date card and was ecstatic, it's apparent that she had doubts from that date.
Towards the beginning of Monday night's episode, Jacqueline decided that those "swirling doubts" of hers were too big to ignore. She went to Arie's hotel room and explained what she was feeling — and it seemed like her decision was made. She was going to leave. "Maybe I'm not confident enough about the feelings I have at this point," she told Arie. She said she had that nagging feelings during their one-on-one but she was "not willing to listen to feelings." Considering next week is hometowns, she would need to be sure that she was into Arie considering he was going to meet her family. The confrontation with that possibility drove her to come see Arie.
"I'm pretty blindsided," Arie said in a confessional. "Everything seemed possible... but she couldn't see the week through." It seemed that Jacqueline went in Arie's room with the intention of leaving; nothing he could say could convince her otherwise. Though during a final hug, Arie did whisper to her, "If you have any regrets, come back to me."
Editor's Note: The Instagram post has since been deleted.
During a confessional of her own, Jacqueline was expressing some regret in the moment. "I haven't lost interest [in Arie]," she said, "I still have so many feelings for him." Not only that, but she felt like this shouldn't be the time she should leave. "This doesn't feel right, I don't even know if I'm making the right decision... I did not expect this to happen." And yet, she went with her gut and left Italy and Arie.
Will Jacqueline actually regret her decision? I can't speak for her, but considering how seriously she's taking her career, I don't think so. And who knows, she didn't even go to hometowns yet — so there's no way of knowing that she would end up winning. For now, though, it's clear that both Arie and Jacqueline were upset about the breakup, but I'm sure both of them will move on.
Check out Romper's new video series, Romper's Doula Diaries:
Watch full episodes of Romper's Doula Diaries on Facebook Watch.