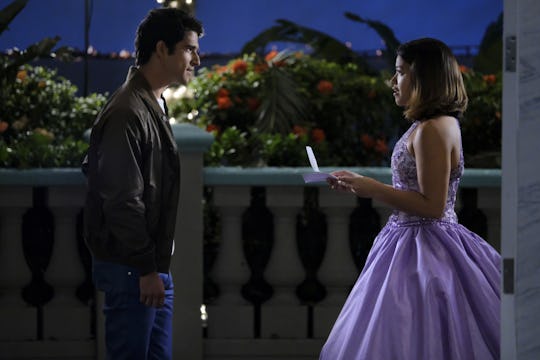 Scott Everett White/The CW
Jane & Adam's History Will Be Revealed On 'Jane The Virgin'
I'm not sure I'm alone in this, but I don't know if I'll ever get over Michael's death on Jane the Virgin. Partway through Season 3, he and Jane are trying to have more children and he's studying to be a lawyer — then bam. He died. At the end of Season 3, though, Jane had a chance to read a letter he wrote to her for the first time... and it just so happens that her ex-boyfriend, Adam, found it. But why did Jane and Adam break up on Jane the Virgin? Viewers never saw him before on the series.
The final scenes of Season 3 were pretty bittersweet for me. As a ride or die Michael fan from the series premiere, I never liked seeing Jane with anyone else. Now that they can't be together (unless it's via séance I suppose), I'm warming up to the idea of her finding another guy. After all, I ship Jane and happiness more than I ship Jane and Michael. This is why the Season 3 finale was especially poignant. For viewers who need a refresher, when Jane was at a loss for what to say at her mother and father's wedding, she set out to find a letter Michael wrote before their own wedding.
At the end of the episode, Jane read the letter. As it turns out, Adam, played by Teen Wolf Tyler Posey, found it. Jane the Virgin is not known for its subtlety, and if this isn't fate and destiny hitting Jane in the face, I don't know what is. When he appeared, the Narrator couldn't help but dreamily sigh. Adam is Jane's first love; Jane said she thought she'd never see him again... but this is a telenovela, so of course she does! Besides the fact that he's the first person Jane fell in love with, not much is known about Adam as of now.
According to Variety, though, Tyler Posey is a recurring star this season — so the audience will be seeing plenty of Adam. Jane showrunner Jennie Snyder Urman told Entertainment Weekly some details about Adam's character. "He's an illustrator of comic books and graphic novels," she said. "He's the same age as [Jane], but their lives have gone in such drastically different paths that it feels like they're almost living different lives."
Interesting! Urman also hinted at Jane and Adam's past together: "Jane's never dated an artist since she's decided that she was an artist, so they connect on an artistic level and he just has a different approach to life than she does. I think that will be fun to see how Jane fits into his world." So, I'm assuming that Jane and Adam dated before she decided to pursue writing as her profession... so maybe in high school? There's no way of knowing what drew them apart so many years ago, but Urman's description of their different life paths could be a clue.
Perhaps Adam wanted to have a more carefree life, and Jane wanted to settle down like she was beginning to do with Michael when the series began. I hope that the fact that she was a virgin wasn't his reasoning for breaking it off... but if he was an immature teenager, it's definitely a possibility. I'd rather their breakup be more amicable. Seeing as Jane's breath was taken away when she saw him, it may be a good sign that he wasn't a jerk when they broke up. I'm sure Jane the Virgin will grant its viewers their fill of nostalgic and heartbreaking flashbacks this season, so they'll know what went down between Jane and Adam — and more importantly, what's going on in their present.
Watch Romper's new video series, Romper's Doula Diaries:
Check out the entire Romper's Doula Diaries series and other videos on Facebook and the Bustle app across Apple TV, Roku, and Amazon Fire TV.