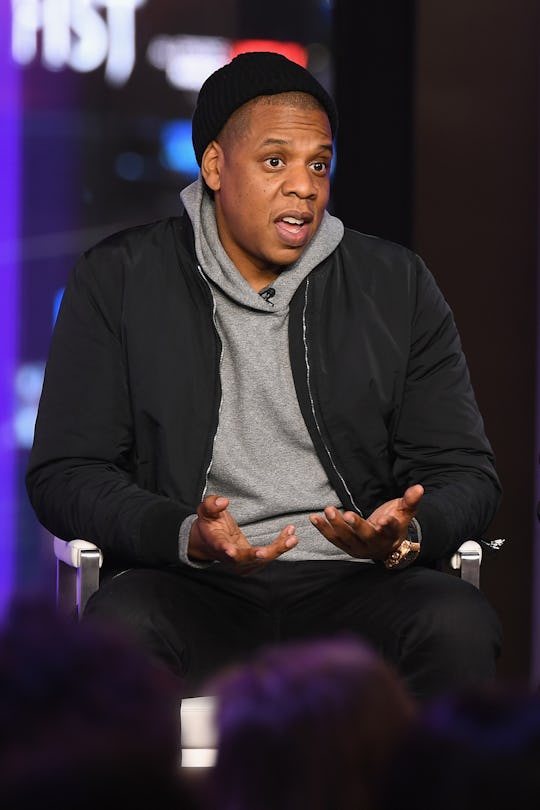 Dave Kotinsky/Getty Images Entertainment/Getty Images
So, Jay Z Is Now JAY-Z & Everyone Is Shook
Not to be outdone by Beyoncé and the twins, Mr. Knowles-Carter just released some news of his own. Sure, it's not as earth shattering as two new Bey-bies, but the father of three certainly felt the need to share his most recent identity switch. Fans are wondering: Why did JAY-Z change his name? The rapper formerly known as "Jay Z" is now "JAY-Z" — yes, with a hyphen, and yes, in all caps. Is it meant to be shouted out? Only time will tell.
Looking back, JAY-Z's got a lot of nicknames and he's reinvented himself time and time again. Ever heard of "Hova?" Short for "J-Hova?" The moniker that sounds like (yep, you guessed it), "Jehovah?" That's just one of his personal iterations; "They call me J-Hova cause the flow is religious," he spits in "Rhyme No More."
But of course, he wasn't always a "Hova"; JAY-Z's birth name is Shawn Carter. Upon marrying the queen, he officially took Beyoncé's last name, thus becoming Shawn Knowles-Carter. Adding just a bit more confusion, JAY-Z's Twitter handle is a combo of his initials and underscores (@S_C), with his name listed as "Mr. Carter."
Before the capitalized JAY came out on Monday, he actually hadn't been "Jay Z" (sans hyphen) for very long; In 2013, JAY-Z dropped the hyphen upon the release of his album Magna Carta Holy Grail. Funnily enough, adding the hyphen back in is also centered around an album. Fans can finally hear 4:44, JAY-Z's latest project, on June 30, released under his new, capitalized, and properly punctuated name. Tidal spread the 4:44 news on Monday with a video clip featuring a boxing Mahershala Ali and a JAY-Z verse.
Sorry to make it about Beyoncé again, but seriously, JAY-Z? You can't release a statement about the new babies' names but you've got plenty of time to spread news about yours? We don't even know the sexes of the Knowles-Carter twins, but we've got a release date for 4:44? Talk about playing it close to the vest.
Without a statement from JAY (or Bey), the most secure babies-are-born confirmation came from Beyoncé's dad. Mathew Knowles's tweet was the first insider announcement that the twins had arrived. All we're asking, JAY-Z, is for a little bit of acknowledgement that you helped bring two new lives into the world! Though a tweet would suffice, we know that you and Bey prefer that things be a bit more extravagant; Beyoncé's iconic pregnancy announcement will be unmatched for decades to come.
Blue Ivy's first baby photos were shared just a month after her birth, so maybe there's hope that we'll see the twins in a bit. 4:44's release date is before then, however, so the next things you'll hear from JAY-Z will likely all be album-related. Sigh. Guess we've just gotta take what we can get.