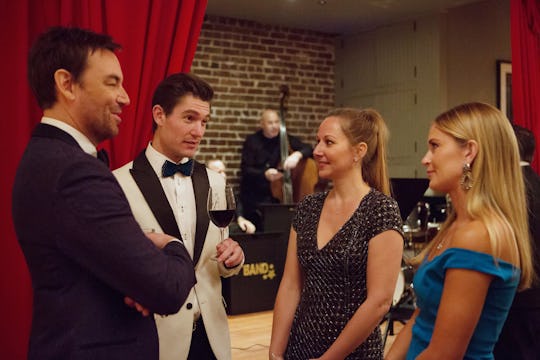 Paul Cheney/Bravo
Here's The Reason 'Southern Charm's J.D. & Elizabeth Separated
No one likes to see a longtime couple split up, even if that couple is on reality TV and you don't really know them in real life. But for the duration of Southern Charm, J.D. and Elizabeth Madison have been part of the cast and part of each other's lives. As shown in the current season, however, they've officially separated, so why did J.D. and Elizabeth separate on Southern Charm? They have a lot to work on as a couple.
Even before Season 5 premiered, it was reported that the longtime couple had separated, but now that the season is in full swing, more details have come out about why they aren't together right now and what their future might hold. J.D. recently revealed to The Daily Dish that the reason for their separation was a combination of their personal lives being too different and being unable to put in the necessary effort to make their relationship work. From different work schedules to general stress in their marriage, years of fighting caused the couple to gradually grow apart. While that doesn't mean the couple is heading for actual divorce anytime soon, it does mean that they realized as a couple that they needed to take a step back and figure things out for themselves.
"Although we had extreme highs and lows, and we were a passionate couple, the fighting was pointless and the constant negativity was exhausting. We had grown so far apart that separation seemed our best option, and the best solution for our family," J.D. revealed. "We wanted to keep our friendship intact so we could effectively co-parent the children." In order to work on how to figure out what they want as a couple, J.D. said, they needed to agree to this time apart.
He also explained that there wasn't some big event or betrayal that led to their separation, but rather a gradual downward turn in their marriage. Because of this, to avoid outright getting divorced for the sake of their relationship and their family, the couple decided to separate instead. Together, they have four children and, J.D. said, they're part of the reason why he and Elizabeth aren't "entertaining divorce at this time."
Elizabeth reiterated the same explanation when she spoke to The Daily Dish as well. She also revealed that in separating, they've been able to work on themselves individually and maintain a friendship for their children. "I was deeply saddened by how far we had fallen as a married couple, and at the time, I felt we had both done everything we could to make it work," she said, regarding when their marriage was at its lowest point. "Our differences had caught up to us, and although it was difficult, we made the decision to separate."
As fans have already seen on Season 5 of Southern Charm, the couple have tried to work through a lot of their issues and are continuing to do so, but the most raw moments are currently being aired in the episodes. Although they remain separated today, that doesn't mean that they aren't also working on their relationship to see where things might be headed for them, although they haven't settled on getting an actual divorce at this time.
As they've both said at different times, they plan to handle their relationship and marriage on their own, whether that means eventually splitting for good or working their way to a healthy and strong foundation similar to the one they had before as a couple.
Check out Romper's new video series, Romper's Doula Diaries:
Watch full episodes of Romper's Doula Diaries on Facebook Watch.