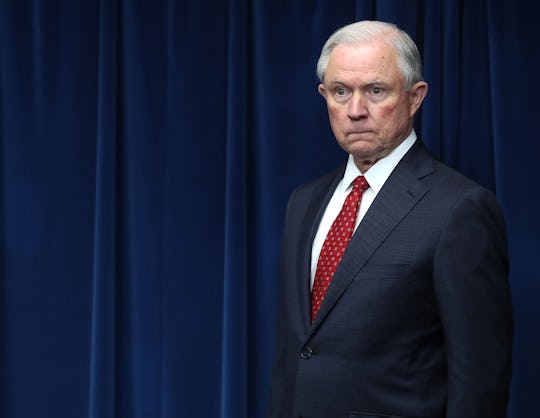 Mark Wilson/Getty Images News/Getty Images
Jeff Sessions Asks 46 US Attorneys To Resign
Attorney General Jeff Sessions made headlines when it was revealed he met with a Russian ambassador before the election. Now, he's asking for a large number of United States attorneys to leave their positions as President Donald Trump's Administration continues to transition. Why did Jeff Sessions ask 46 U.S. attorneys to resign?
Attorney General Jeff Sessions wants 46 United States attorneys who were appointed during the Obama Administration to resign, USA Today reported on Friday. Of the 93 U.S attorney posts, 53 attorneys appointed by Barack Obama have already left their positions. The 46 prosecutors who have remained in their positions have been asked to leave "in order to ensure a uniform transition," Justice Department Spokeswoman Sarah Isgur Flores said in a statement.
Obviously, that transition won't be exactly smooth if the attorneys working under Sessions were appointed by Obama, a president whose policies (and overall demeanor) are radically different than the current administration's. TIME reported that the Justice Department said Session's request is not that different from previous presidential transitions.
But while it's actually normal for attorneys to leave their posts when the new administration begins, the Obama Administration allowed attorneys appointed by President George W. Bush to remain until Obama's picks were confirmed.
There is one attorney who is part of this group but isn't actually an Obama appointee. That would be Maryland's Rod Rosenstein, who was actually chosen by Bush and stayed in his position for the entire Obama Administration, The Washington Post reported. He is up to become the U.S. deputy attorney general.
Isgur Flores told The Washington Post that once the previous administration's attorneys leave, the open positions will be filled by career prosecutors.
Until the new U.S. attorneys are confirmed, the dedicated career prosecutors in our U.S. attorney's offices will continue the great work of the department in investigating, prosecuting and deterring the most violent offenders.
United States attorneys represent the federal government in both district court, which decides civil and criminal cases, and the court of appeals, which decides appeals from the district courts.
Sessions has faced controversy since it was revealed he did not disclose meetings with a Russian ambassador during his Senate confirmation, CNN reported. Sessions recused himself on March 2 from investigations into Donald Trump's communication and ties to Russia during the U.S. election. Despite that, some politicians called for his removal from his post.
"That the top cop in our country lied under oath to the people is grounds for him to resign," CNN reported House Minority Leader Nancy Pelosi said in a statement. "He has proved that he is unqualified and unfit to serve in that position of trust." So it's surprising Sessions would call attention to himself so soon after the controversy.
Sessions, like most of the Trump Administration, has been spoofed on Saturday Night Live. He's been portrayed by Kate McKinnon in previous episodes, and she'd probably be excited to play him again. So let's see if Sessions bringing attention to himself will lead to his return in the next episode.