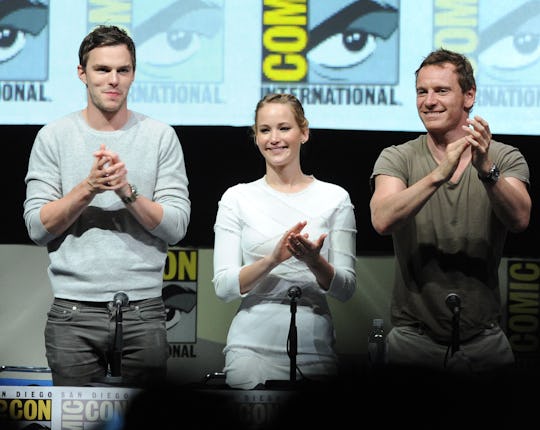 Kevin Winter/Getty Images Entertainment/Getty Images
Why Did Jennifer Lawrence & Nicholas Hoult Break Up? The Have Quite The History
With the Oscars right around the corner, fans are getting exciting to catch a glimpse of their favorite every-gal, Jennifer Lawrence. Lawrence has become an icon for single ladies everywhere lately; she may even walk the red carpet stag (Does that term apply to women? Discuss.). One thing's for sure: she won't be attending with her ex Nicholas Hoult. Though their on-again, off-again romance was pretty adorable, it's off for good. So why did Jennifer Lawrence and Nicholas Hoult break up in the first place?
Like any celebrity relationship, theirs was surrounded by rumors. First, fans heard the couple broke up back in 2013, then about a year later, after they'd gotten back together, there were more rumors that Hoult and Lawrence were breaking up again because of Lawrence's insatiable ambition and ego (really?). Then, finally, their relationship ended for good in 2014. Why? There were, yet again, rumors that Kristen Stewart was to blame, yet the real story is much more straightforward. According to E! Online, Lawrence and Hoult ended it because the long distance relationship was too difficult to maintain, especially given the demanding nature of their careers.
The relationship blossomed when Lawrence and Hoult were filming X-Men: First Class. That ended when the production did, but they got back together for X-Men: Days of Future Past. Lawrence was very open about having realistic expectations for the relationship. When they were together, they were together, when they were apart, they gave each other space.
A source told E! Online, "They spent a lot of time apart because of work and it was difficult on their relationship." Their split is said to have been very amicable, which seems more like Lawrence's style. It makes sense that after a few times, the parting of ways becomes easier. They both know what it's like to be a busy movie star; they are in a good position to understand each other.
Almost a year after that final breakup, in 2015, Lawrence talked to Diane Sawyer about her relationship with Hoult during the X-Men movies and the breakup that followed. She said:
I was also in a relationship with somebody for five years and that was my life. So my life was this person and these movies and we broke up around the same time that I wrapped those movies. Being 24 was this whole year of, 'Who am I without these movies? Who am I without this man?'
These days, Lawrence seems to know exactly who she is without that man. She told Marie Claire:
It's not a sad thing to be alone. I think what I was trying to get across was that I don't feel a lack of something not being in a relationship. I don't feel like there is an emotional void to be filled.
She seems to really be channeling her Oscar-nominated performance in Joy. Joy Mangano didn't need a man to become who she is today. Neither does Lawrence.