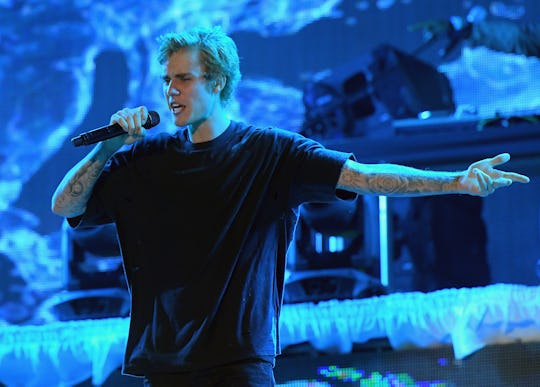 Gustavo Caballero/Getty Images Entertainment/Getty Images
Justin Bieber's Explanation For Cancelling His Purpose Tour Isn't Totally Convincing
Days after he added additional dates to his world tour, TMZ reported on Monday that Justin Bieber has cancelled the rest of his Purpose tour. It's not entirely clear why the 23-year-old pop star abruptly pulled the plug on the final leg of his world tour, but many fans want to know what happened and what to do if they purchased tickets to one of his upcoming shows.
A tour rep for Bieber told Romper in statement that the decision was due to "unforeseen circumstances," adding:
Justin loves his fans and hates to disappoint them. He thanks his fans for the incredible experience of the Purpose World Tour over last 18 months. He is grateful and honored to have shared that experience with his cast and crew for over 150 successful shows across 6 continents during this run. However, after careful consideration he has decided he will not be performing any further dates.
The statement did not elaborate on the circumstances that led to the cancellation of the tour's remaining 15 dates, but a source close to Bieber told TMZ that he's "just over it."
Until Monday, Bieber was set to perform in Arlington, Texas, this weekend and also had dates set in Colorado and New Jersey, as well as the Rose Bowl in Pasadena, according to Page Six. The "Sorry" singer was also reportedly slated to head overseas for performances in Japan, Singapore, and the Philippines.
The statement also added that all tickets for the remaining shows will be refunded at the point of purchase. And while Bieber's fans will be able to get their money back, many are still pretty bummed that they won't get to see him live.
Others, however, seemed to be content with his decision to call it quits on his world tour and were more concerned about his well-being.
Bieber's now-cancelled tour began last year and in just the first half of 2017, sales from the tour grossed "$93.2 million with average per date ticket sales of 38,297," according to Variety. The magazine also reported that Bieber could face penalties for cancelling his shows in the United States, which "are typically not insured against cancellation without a medical reason."
Because Bieber's explanation was very vague, it's hard to tell what repercussions, if any, he might face for cancelling the tour. But until his team gives further details, the reaction from Beliebers is still divided. And for those fans who had been waiting to see him perform later this summer, it's probably a bit too late to say sorry.