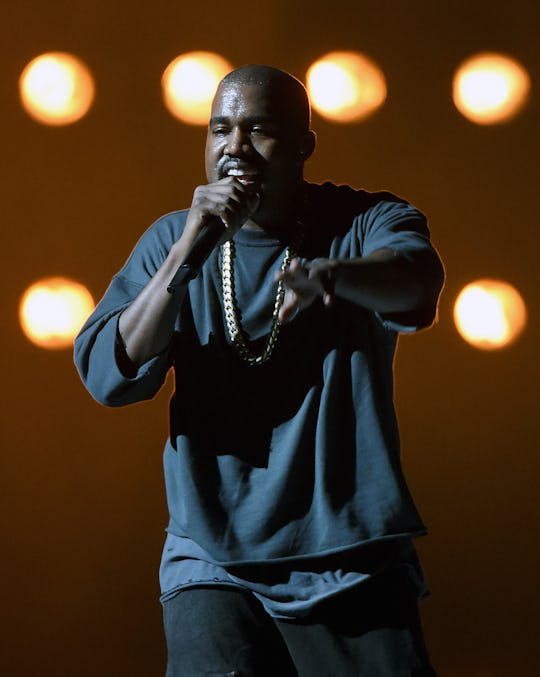 Ethan Miller/Getty
Why Did Kanye Change His Album Title To 'Waves'? Because He's Kanye West
Third time's the charm? Only two days after sharing the supposedly-final track listing for his long-awaited new album Swish, Kanye West changed his album name again, this time to Waves, according to Entertainment Weekly. West took to Twitter Tuesday to announce the change, posting, simply, "New album title, WAVES." He followed it up with a tweet showing an updated shot of the handwritten track listing he'd released Monday, showing the new title, some more changes to the list of tracks, and lots of extra doodling.
According to the photo, Waves will now break the songs up into three "acts," and a new song, "Ultra Light Beam" has been added as the final (or at least final-for-now) track. It also looks like one of the songs, "Faith Stretch My Hands," will have two versions — part one and part two. And, judging by all the extra handwriting, the updated pic suggests possible collaborations with A$AP Rocky, The-Dream, and Swizz Beatz. Despite his confident claim that, "this is not album of the year" but "the album of the life" (no big deal), Yeezy doesn't seem quite as confident in his previous name choices: before Swish, the album was originally named So Help Me God.
So what's behind the change? West offered no explanation, and I don't know if it's even possible to speculate at his thought process behind basically anything. But one thing is for sure: Kanye West is a major perfectionist who takes his work seriously. Case in point? According to Capital Xtra, West "spent days perfecting his Daft Punk-sampling hit single 'Stronger'," reworking it 50 times with eight different producers. So the most likely reason for the change? Swish just wasn't perfect enough. (And it is his album after all. He can change the name 17 more times if he feels like it!)
According to BBC News, there is one band getting a laugh out of West's new album name. Wavves posted the following shoutout on Twitter Tuesday:
Waves is still slated for a Feb. 11 release, but if it changes, West will almost definitely tweet about it.
Image: Ethan Miller/Getty Images Entertainment