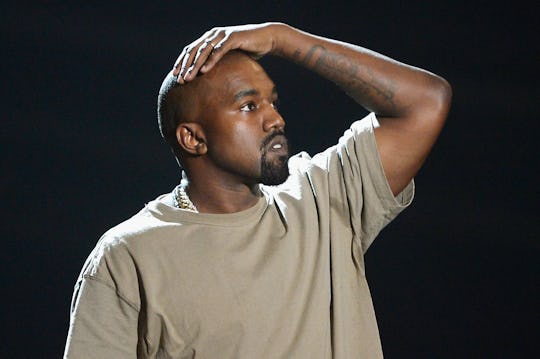 Kevork Djansezian/Getty Images Entertainment/Getty Images
Why Did Kanye West Stop His Show At The Meadows? A "Family Emergency" Has Fans Worried
Kanye West is a performer. He is known to make bold statements, big moves, and sometimes that upsets people. This time around, though, his fans are actually concerned about the rapper, who stopped his set abruptly at The Meadows Music Festival Sunday night, after mentioning a "family emergency" for his reason for leaving. But why did Kanye West stop his Meadows show? Fans are truly worried about the performer and his loved ones, no matter how much of an annoyance a disrupted concert is. (Update: CNN reported that the "family emergency" that caused West to end his set early was due to his wife, Kim Kardashian West, being held at gunpoint in Paris. In a statement to Romper, a spokesperson for Kardashian West said, "Kim Kardashian West was held up at gunpoint inside her Paris hotel room this evening by two armed masked men dressed as police officers. She is badly shaken but physically unharmed.")
Earlier: Twitter immediately erupted with tweets and videos about the singer's quick departure from the stage on Sunday night. As seen in the video below from a concert goer, West was in the middle of his hit song "Heartless" when he stopped singing and said that there was a "family emergency" and that he had to stop the show. You can hear the audience react in the most understandable way — anger. This is the second festival in New York that West was set to perform at, Governor's Ball being the first, which got cancelled due to weather. Besides his Saint Pablo tour, this was going to be one of the first times fans could see the superstar perform this year.
Of course, family comes first, which is something fans are certainly understanding of on Twitter. What is obviously the most concerning is what exactly is happening. West's "family" is very well known and loved in the world, and surely fans are wondering what exactly has happened that would cause West to blame a "family emergency."
The music festival's official account tweeted confirmation that West's departure was actually real. People reports that West's wife Kim Kardashian West (and sisters Kourtney Kardashian and Kendall Jenner) is currently in France for Paris Fashion Week. The site also notes that it is not known where West's kids, North and Saint, are at the time. (Romper reached out for comment to West's reps, but did not hear back at the time of publication.)
While the situation is clearly not ideal when at a concert, fans seem to understand that some things take precedence.
Later on Sunday, CNN's Joe Sutton confirmed with Kim Kardashian West's reps that she was "held at gunpoint" inside of her hotel room.
In a statement to CNN, a spokesperson for Kardashian West said the following regarding Kardashian West's brush with terror:
"Kim Kardashian West was held up at gunpoint inside her Paris hotel room this evening, by two armed masked men dressed as police officers. She is badly shaken but physically unharmed."
Hopefully the family is able to be together during such a scary time. There is no doubt that fans will understand that family takes priority during West's interrupted concert.