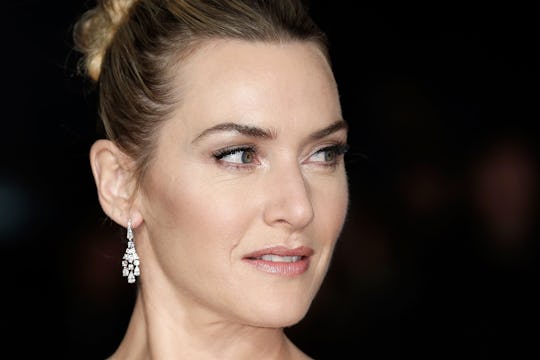 John Phillips/Getty Images Entertainment/Getty Images
Why Did Kate Winslet Name Her Son Bear Blaze? It Reminds Her Of Her Husband
Everyone knows it — Kate Winslet just keeps getting more awesome, and when we think she has reached the top of her craft, she just gets better. It's something to watch, and we can all say she has come a long way since Titanic. And, I mean, a long way. In fact, Winslet, who won an Academy Award in 2009 for her lead in The Reader, has been nominated again for an Oscar for her supporting role in Steve Jobs. In the film, Winslet plays Joanna Hoffman, the marketing executive who helped guide Steve Jobs' companies to success. But, in real life, Winslet and husband Ned Rocknroll (yes, you read that right), welcomed a son in 2013 — another sibling for Winslet's daughter Mia and son Joe from prior marriages. But there's one thing that many people are wondering: Why did Kate Winslet name her son Bear Blaze?
Basically, Winslet and Rocknroll met when a house fire started on Richard Branson's Necker Island where they were both on vacation. Bear Blaze's name stemmed from this meeting. She told The Ellen Show:
Bear's second name is Blaze because my husband and I met in a house fire basically. The house burned down and we survived. But we wanted something of the fire and so Blaze was the name that we came up with. Bear Blaze.
But yeah, seriously, that's the story of where Winslet's youngest son got his unusual name.
But who doesn't like a little nostalgia and, wait, there's more. Bear was chosen because one of Winslet's friends is nicknamed Bear, and she had always liked it. Winslet had been married twice before Rocknroll, who is Richard Branson's nephew, a businessman born Abel Smith. Her two former husbands, Jim Threapleton and Same Mendes, were both film directors. But the 40-year-old actress obviously thinks this is the one. Winslet told US Weekly, "He's absolutely everything to me."
So, it's not surprising the star chose to name her son after the couple's natural-disaster themed first encounter. Interestingly, Winslet is fiercely private, but she seriously opened up about her kids' names. Maybe its just that Ellen DeGeneres thing — DeGeneres can make anyone feel comfortable. Winslet said on The Ellen Show:
When I was pregnant with Mia and I was pregnant with Joe, I didn't name them before they came out because I always felt like I just have to see them and see who they're going to be. But of course this time around, there's Mia and Joe and the whole pregnancy's about what are we going to call the baby ... They were very much included, and we settled on Bear quite early on.
This woman is on fire herself, and it's not surprising to see her do something outside of the box like choose an unorthodox name such as Bear Blaze. Take Winslet's recent rockin' feminist message, for example:
Bear Blaze has a good roll model in his Academy Award winning mama, but we'll just have to wait and see if Winslet can add another Oscar statuette to her shelf this year.