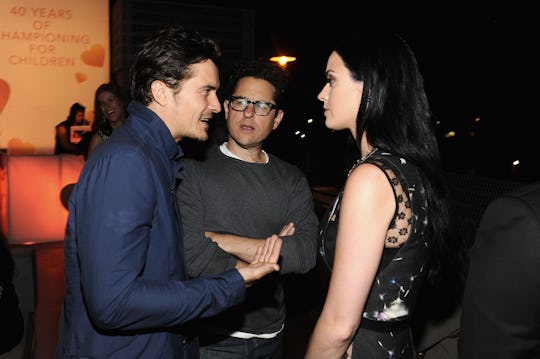 Stefanie Keenan/Getty Images Entertainment/Getty Images
Katy Perry & Orlando Bloom Have Split
The relationship that bloomed between Katy Perry and Orlando Bloom last year was one that quickly took over headlines: They were famously seen paddleboarding in Italy, hanging out at Coachella, and chilling in Tokyo at the Sanrio theme park, according to Cosmopolitan. But all good (and strange) things come to an end, and it looks like this famous duo has called it quits, at least for now. But why did Katy Perry and Orlando Bloom break up?
The two stars' reps released a statement to People on Tuesday, but it didn't delve into the reasons behind their split. Actually, the statement hinted at the fact that Perry and Bloom may just be on a break (much like Ross and Rachel were back in 1997. Oh yeah, we're that old). It read:
Before rumors or falsifications get out of hand, we can confirm that Orlando and Katy are taking respectful, loving space at this time.
What does that even mean? Nobody's sure. But for now, at least, the dynamic duo has parted ways, and there are a couple of theories out there as to why. Considering that Perry and Bloom are unlikely to confirm any of the stories out there, they remain hearsay — but that just means you get to believe whatever you'd like. Without further ado, here are the most popular theories going around at the moment.
They Were Too Busy
It would be a totally valid reason. Perry is busy promoting her fourth album, while Bloom has been keeping busy with UNICEF, according to E! News. Trying to maintain a relationship when you've barely got time for one is taxing for everyone involved, so it wouldn't be surprising if busy schedules got in the way of Bloom and Perry's relationship.
It Was Just Supposed To Be A Fling
"It was never really supposed to be serious between them," a source reportedly told People after the couple split. "There was nothing dramatic or over the top. Katy's going through a lot of changes for her new music — both physically and emotionally — and this was a part of that. ... This just ran its course."
Bloom Met Someone Else
And now for the biggest stretch: According to The Daily Mail, Bloom was seen chatting with another girl at the Global Green pre-Oscars party before his break-up with Perry. Personally, I figure it's just bad timing that makes this otherwise-pretty-normal conversation look suspicious, but I could be wrong.
Hopefully Perry and Bloom are both getting what they needed out of their break, and maybe one day in the future, one of them will talk (or sing?) about what split them up. For now, it seems like the public will just have to keep wondering.