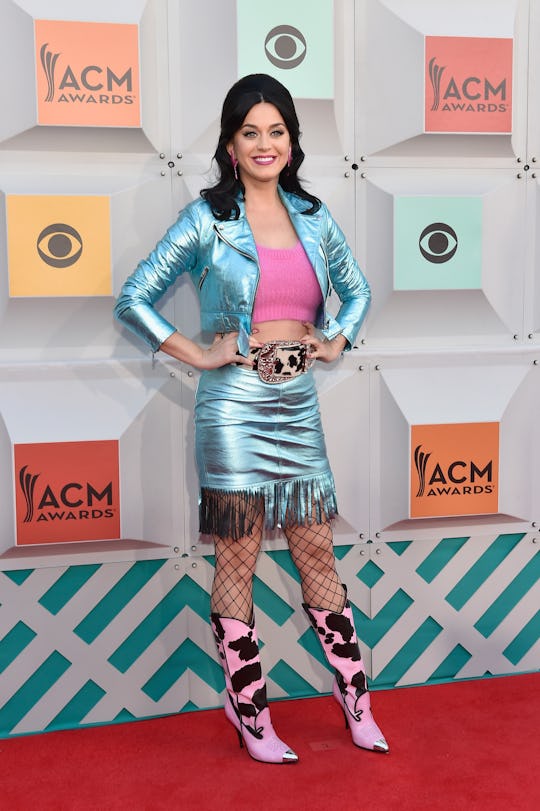 David Becker/Getty Images Entertainment/Getty Images
Why Did Katy Perry Take Out Her Earpiece During Her ACM Awards Performance With Dolly Parton?
Pop star Katy Perry isn't usually considered a country singer, but she took a walk on the wild side on Sunday night when she took the stage at the ACM Awards. Perry performed a duet with the legendary Dolly Parton, and I'm happy to report that she killed it. Not only that, but she did so without her earpiece, too. Why did Katy Perry take out her earpiece, though?
ACM and Katy Perry haven't taken to social media to explain what happened, but fans definitely noticed when she pulled her earpiece out mid-performance — mostly because she continued to sound really, ridiculously good. She most likely had some kind of technical difficulty with the earpiece, but I'd like to think Perry just really wanted to live in the moment as she rocked out with Parton. (I mean, how many people get to do that?)
Parton was being honored with the Tex Ritter Award for her autobiographical TV movie, Dolly Parton's Coat of Many Colors. When the news dropped that Perry and Parton would be collaborating on the ACM Awards stage, Perry fangirled on Twitter: "MY PRAYERS HAVE BEEN ANSWERED. I shall remember though that I am but one sequin on this living legend's costume!"
Whatever may have happened with her earpiece, Perry still managed to bring it on stage with the country legend. Can the world please get a recorded version of their "Jolene" duet ASAP? I'd also be open to an entire album of duets from the two ladies. Just saying.