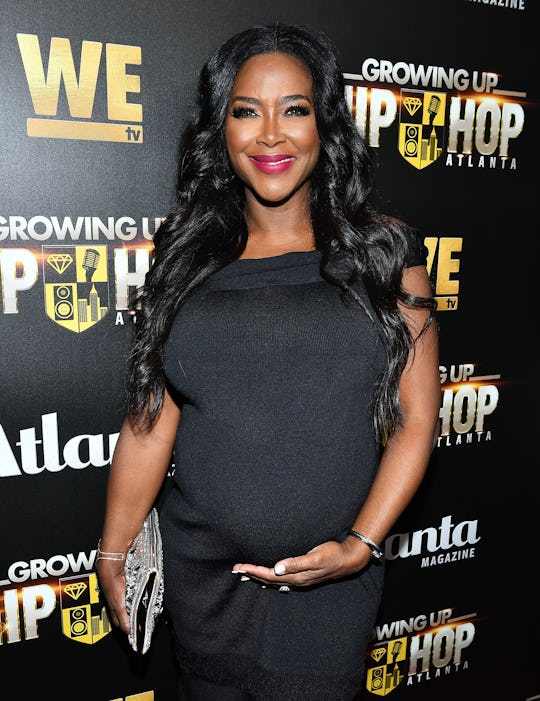 Paras Griffin/Getty Images Entertainment/Getty Images
Here's The ~Real~ Reason Kenya Moore Left 'Real Housewives Of Atlanta'
The Season 11 premiere of The Real Housewives of Atlanta is just around the corner, but fans won't be seeing one series regular return this season. This summer, Bravo revealed that Kenya Moore would not be featured in the upcoming season, and this news spawned rumors of hostility between her and the network. With all the conflicting reports, fans want to know what really happened. Why did Kenya leave Real Housewives Of Atlanta?
According to People, Moore left the show due to long and "messy" contract negotiations. Sources close to the RHOA production team told People that Bravo wanted Moore to return as a Season 11 housewife, but she asked for much more money than they could offer. They also told the outlet that production wanted to film all aspects of Moore's life — including her time with husband Marc Daly — but couldn't reach a mutual agreement.
In 2017, Radar Online reported that Daly was uninterested in being on the show, and he refused to sign release forms that would allow producers to air his footage. A RHOA insider told Radar Online that Daly's refusal to appear on the series meant that most of Moore's life would be off limits, leaving her limited footage. "Her lack of cooperation and choice to keep her husband away from the show hurts her because she does not have anything compelling going on in her life this season," the insider told the outlet, adding that Kenya's unwillingness to feature her relationship on the series would result in other cast members getting more airtime. Of course, it's important to keep in mind that none of this came from Kenya herself, so should be taken with a healthy pinch of salt.
But it looks like without access to such a big chunk of her life, Kenya and RHOA producers didn't find common ground to reach a suitable agreement for Season 11. But just because Kenya isn't a part of RHOA anymore, doesn't mean that she's severed ties with her Atlanta friends. According to US Weekly, she recently attended costar Cynthia Bailey's Seagram's Escapes event. Interestingly enough, she was wearing a mic with RHOA cameras rolling, but there's no guarantee that her footage from the party airs on the upcoming season.
Kenya, who is expecting her first child, recently shared photos of her fairy-tale themed baby shower, reported People, with her RHOA friends Cynthia Bailey, Kandi Burruss, Porsha Williams, Shamea Morton, Carmon Cambrice, Miss Lawrence and Brandon Deshazer in attendance. But just a few weeks after the baby shower festivities, Moore was told by doctors that she may have to deliver her baby sooner than expected.
US Weekly reported that Kenya was diagnosed with preeclampsia — a condition that causes pregnancy complications — and that her doctors are monitoring her condition. In an Instagram post, Kenya shared a picture of her swollen feet, noting that she laughed it off initially. "I made fun of my swollen feet at [Cynthia Bailey's] party. Next day my tests came back for possible preeclampsia," she captioned the photo. "I gained 17 lbs in ONE week due to severe swelling and water retention, high blood pressure, and excess protein in urine — Baby is fine but if they come back higher #babydaly will have to come same day." Whether she makes a cameo on RHOA or not, I know Kenya's fans are rooting for her to have a healthy delivery, and they can't wait to finally meet Baby Daly.
Without Kenya, plus the departure of Sheree Whitfield, the new season of RHOA will continue to follow other fan favorites, including NeNe Leakes, Porsha Williams, Cynthia Bailey, and Kandi Burruss, but will also introduce two new housewives into the mix — Shamari DeVoe and Eva Marcille.
So while fans will definitely miss Kenya, rest assured that this season will still include plenty of drama.