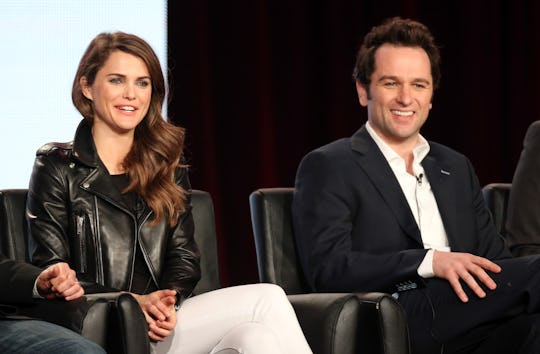 Frederick M. Brown/Getty Images Entertainment/Getty Images
Why Did Keri Russell Name Her Son Sam? The Actor Talked About Him For The First Time
Keri Russell made a big announcement Friday morning. During an interview with on TODAY, Russell revealed the name and gender of her baby with her costar, Matthew Rhys. Why did Keri Russell name her son Sam? She hasn't given a specific reason yet, but it definitely seems as though she's enjoying being a mom.
When Russell appeared on TODAY to plug her new movie, Free State of Jones, Matt Lauer didn't miss the opportunity to ask the actor about her baby. "You just had a baby about a month and a half ago," Lauer said. "Am I correct in reading, Ms. Russell, that you have not yet revealed the gender of the baby or the baby's name?" Russell laughed and said, "I mean, I guess not. I mean, I don't know where you reveal that." Lauer invited her to "do it right now," and Russell shared the big news: she and Rhys had a boy named Sam. When asked how he's doing, Russell said, "He's so good. He's big and fat and nice," according to TODAY.
Russell isn't a new mom: according to People, she had two children during her marriage to Shane Deary: Willa and River. This is her first child with Rhys, who doesn't have any other children.
Rhys and Russell started working together in 2013, People reported; the two star on FX series The Americans. That same year, Deary and Russell divorced; though Russell had just ended a seven-year relationship, fans began to speculate that she could be interested in her costar. Though Rhys denied anything other than a professional connection into early 2014, their relationship was finally official in March 2014. Their pregnancy didn't become public knowledge until January 2016.
FX renewed The Americans for two more seasons, according to Variety, meaning that Rhys and Russell will likely get to spend a lot more time working on the show that brought them together. The couple plays a fictional couple of spies working for the Soviet Union in D.C. Fans can expect 13 episodes in 2017 and 10 in 2018. Though the show is set in the '80s, it's considered innovative television in the 21st century; TIME lauded The Americans' writers for their willingness to be decisive and avoid toying with audiences' emotions. TIME writer Daniel D'Addario called the show "delightfully unpredictable," but perhaps the biggest surprise of the series' scheduled six-season run will be the real-life romance between its costars.