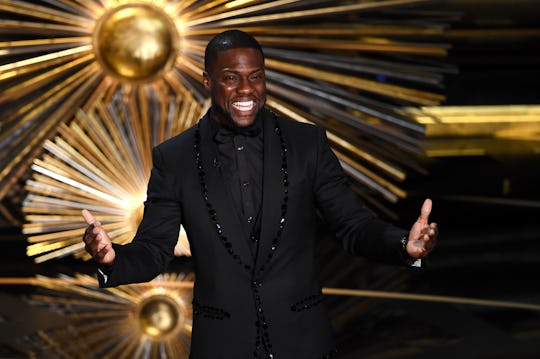 Kevin Winter/Getty Images Entertainment/Getty Images
Why Did Kevin Hart Get Bleeped During the Oscars? No One's Exactly Sure Yet
During the 2016 Oscars, actor Kevin Hart gave an amazing speech that congratulated actors and actresses of color on an amazing year of work. It was beautifully said and made a great point — but it was marred by a short censoring of his words on the part of ABC. That said, why did Kevin Hart get bleeped?
When Hart was bleeped, he was introducing The Weeknd for his performance of "Earned It," the musician's fantastic song that made its debut in the film Fifty Shades of Grey. Hart also spoke towards #OscarsSoWhite and managed to keep things incredibly positive even while delivering a strong message. So nobody was impressed when his speech was interrupted by a brief little silence.
Twitter has quite a few theories on why Hart got bleeped, and they all involve profanity. Most people feel like it was fairly unnecessary, as well, since it made people focus on the couple of seconds of censorship rather than the power of Hart's words. Since no one — including ABC, the Academy, or Hart himself — has jumped onto Twitter to explain the bleeping (OK, understandably they are all busy), those watching TV have had to resort to lip-reading and guessing.
Both sound probable, as Hart was definitely passionate in congratulating his colleagues.
But Twitter users didn't only have theories to offer up — they had opinions, too.
The world is still waiting for an explanation to elucidate that bleep, but in the meantime, I figure Hart just got a little enthusiastic and let a little ABC-vetoed swear word slip. Hey, it's the Oscars — I'd probably do the same.