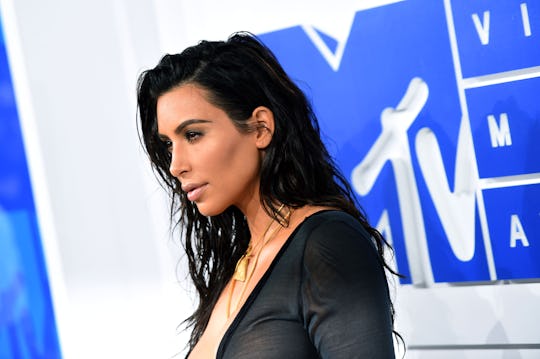 Larry Busacca/Getty Images Entertainment/Getty Images
Kim K Reveals The Reason She Needs Surgery
In a sneak peek of this Sunday's episode of Keeping Up With the Kardashians, Kim Kardashian revealed why she needed surgery to help her and husband Kanye West try to conceive a third child. The 36-year-old reality star has been very open and honest with about her pregnancy struggles, informing fans on her blog that she suffered from a serious complication involving her placenta during her first two pregnancies. But although another baby could be very risky for her, Kardashian announced in the clip that she desperately wants 3-year-old North and 1-year-old Saint to have siblings and having surgery is "really the one last thing" she can try to get pregnant once more.
"I have to go in and repair my uterus because I decided I'm going to try to have one more baby," she tells her mom and sisters in the clip, according to E! News. "I have to have a surgery on my uterus to kind of repair this hole, so they need to like clean that out and then there's scar tissue. It will still be a really high-risk pregnancy, just you'd be able to get pregnant."
Kardashian wrote in her blog that she had a high-risk condition called placenta accreta while she was pregnant with her children. The rare condition occurs when the placenta attaches too deep in the uterine wall and approximately 1 in 2,500 women experience this during pregnancy, according to the American Pregnancy Association.
"My placenta stayed attached inside my uterus," she wrote in her blog of her first pregnancy. "My doctor had to stick his entire arm in me and detach the placenta with his hand, scraping it away from my uterus with his fingernails." She added that even after this, there was still a piece of placenta attached inside of her and required surgery to remove it and an additional procedure to remove the scar tissue.
As the Huffinton Post reported, the American Congress of Obstetricians and Gynecologists wrote that having this condition is life-threatening because a woman with placenta accreta can lose an average of 3 to 5 liters (0.8 to 1.3 gallons) of blood during delivery.
Because Kardashian had this condition with her first two pregnancies, she may have an increased risk of having it again with a third child, according to the Mayo Clinic. Doctors recommend that women with placenta accreta will likely need an early C-section delivery "followed by the surgical removal of your uterus", meaning she can no longer get pregnant.
"Having more kids is definitely going to be a struggle," Kardashian admitted in the clip, according to E! News. "I've gone through so much with really bad deliveries that the doctors don't feel like it's safe for me to conceive again myself. This surgery is really the one last thing I can try."
Despite these serious health risks a third baby could cause her, Kardashian is clearly very determined to expand her family through her own pregnancies. According to People, she's open to the idea of surrogacy, but it seems that she wants to try everything in her power before she officially explores alternative ways to give her little ones a new sibling.