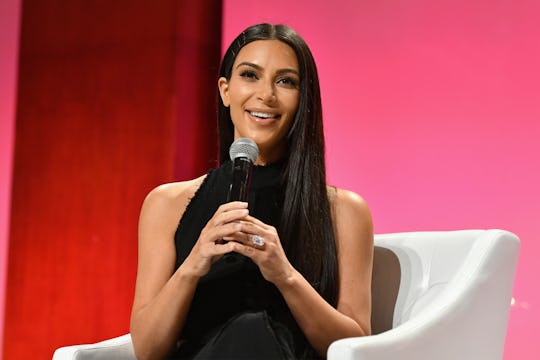 Slaven Vlasic/Getty Images Entertainment/Getty Images
Kim Kardashian West Hires A Surrogate
Looks like the Kardashian West family is expanding for a third time, this time with a little extra help. According to People, Kim Kardashian West has reportedly hired a surrogate. The 36-year-old mother of two has always been candid in her desire to have a large family, but after two doctors had cautioned her about becoming pregnant for a third time, Kardashian has sought out some third-party help to grow her family. Kardashian is already mom to daughter North West, who just turned 4 years old on Friday, and 18-month-old son Saint. Kardashian has not confirmed the report from People, and representatives for Kardashian did not immediately return Romper's request for comment.
In an April episode of Keeping Up With The Kardashians, Kardashian revealed the news to her family that she and husband Kanye West were going to try and have "one more baby," calling their decision "exciting." In the same episode, she did note that getting pregnant for a third time would still be a high-risk pregnancy for her, after Kardashian's two previously difficult pregnancies. While Kardashian should have no trouble getting pregnant, it's the being pregnant and deliveries that posed the most risk of trying for a third. "I've gone through so much with really bad deliveries that the doctors don't feel like it's safe for me to conceive again myself," she said in the episode.
North was born almost six weeks early, as a result of Kardashian's scary run-in with preeclampsia. Kardashian also suffered from placenta accreta with both pregnancies, which is a condition where her placenta attaches too deeply into the uterine wall. In April, Kardashian underwent surgery to repair her uterus, but complications following surgery revealed that it just wasn't going to be possible for her to safely carry a third pregnancy. After the devastating news, Kardashian opened up on Keeping Up... to sister Kourtney about the possibility of moving forward with surrogacy.
I'm definitely leaning more toward I want to try. After talking to Kanye, I think that I always knew that surrogacy was an option, but I didn't think it was that realistic of an option. Now, I feel like that's my reality. I feel like surrogacy really is the only other option for me.
The decision to use a surrogate is not an easy one to come to, and lucky for Kardashian, she not only happens to live in one of the most surrogacy friendly states, but has the wealth to be able to afford to pursue surrogacy as a family-building option.