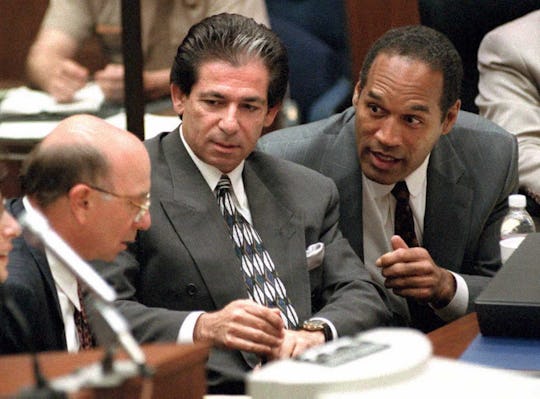 Vince Bucci/Getty Images
Why Did Kris Jenner & Robert Kardashian Divorce? It Wasn't An Easy Split
Kris Jenner and Robert Kardashian divorced many years ago, in 1991. Their marital break-up is not new news. However, thanks to a new FX series, American Crime Story: The People v. O.J. Simpson, people may hear some new news about the subject. Why did Kris Jenner and Robert Kardashian divorce? Kardashian alleged that Jenner was unfaithful.
Season one of American Crime Story, a new and upcoming true crime series created by Scott Alexander and Larry Karaszewski, focuses on the murder trial of O.J. Simpson (who Robert Kardashian represented in 1995). Not only has David Schwimmer been cast as Kardashian, Selma Blair is slated to portray Jenner, and numerous "child stars" will be taking on the role of the Kardashian kids. This means fans may not only learn about Simpson's trial, but about the Kardashian-Jenner split.
But what do we know about their divorce so far? According to Star Magazine, which cited Radar Online, "the Kardashian household was thrown into turmoil after Kardashian found Jenner in the arms of her boy toy Todd Waterman," meaning Kardashian alleged that Jenner cheated on him. And documents filed with the Los Angles Superior Court appear to support this: "Robert revealed he was so upset when he found out about the affair, after almost 12 years of marriage, that the court feared he was a threat to his family and awarded Kris temporary custody of Kim, Kourtney, Khloe, and Robert Jr."
But the story doesn't end there. Radar Online also reported that Jenner accused Kardashian of emotional abuse. "As a result of (Robert) and my irreconcilable differences, there is a tremendous amount of discord at the family residence," Jenner wrote in her petition, according to Radar's investigation. Jenner went on to argue that because of the alleged abuse, Kardashian should be banned from the family home.
(Talk about ugly!)
Needless-to-say, just one month after their divorce was finalized, Jenner married Caitlyn Jenner, who then when by the name Bruce Jenner, on April 21, 1991. Kardashian died of esophageal cancer in 2003. Jenner seems to have put the past to rest since then. In July 2015, she wished Kardashian a happy father's day on Twitter.