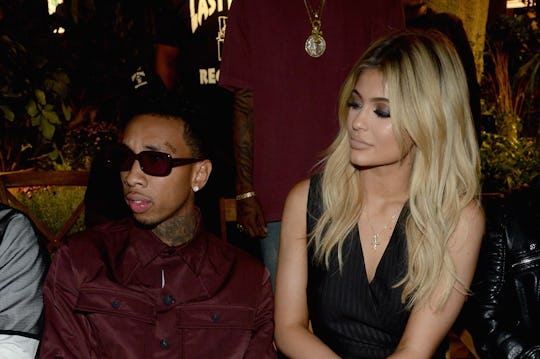 Why Did Kylie Jenner & Tyga Break Up? Split Rumors Inspire Lots Of Theories
When Tyga celebrated his 26th birthday on Thursday, his girlfriend Kylie Jenner was nowhere to be seen. In fact, not a single person in the Kardashian-Jenner clan was present for Tyga's birthday, either in person or on social media. So it was no surprise when E! News reported Friday that the couple broke up. While their reps haven't confirmed that, if the two did split, the question on many people's minds is why did Kylie and Tyga break up?
Unconfirmed sources have told TMZ that the split was due to "something Tyga did" and that Kylie initiated the split. The social media maven hasn't commented on the situation, but she shared a video of herself singing along to breakup lyrics from Bryson Tiller's "Been That Way" on Wednesday.
Jenner isn't necessarily likely to discuss it publicly. Despite being a reality TV star, Jenner wrote a blog post on her app that described her desire for privacy in relationships. "I've never believed in the idea of the public knowing everything about my relationship and every time I break up and make up," she wrote. Which is fair, considering the attention the rumors are garnering and the possible explanations it's inspiring:
After more than a year of dating, Jenner, 18, didn't attend Tyga's birthday celebration at L.A. restaurant The Nice Guy. The two had become quite close since the fall of 2014, with Tyga accompanying Jenner to Mexico for her 18th birthday and gifting her a $320,000 white Ferrari. If they did, indeed, break up, it's worth remembering Jenner's age. Given that she's only 18 and there's such a public spotlight on both her and Tyga, the fact that they had even a year together is a hell of an accomplishment.
Images: Ben Gabbe/Getty Images Entertainment