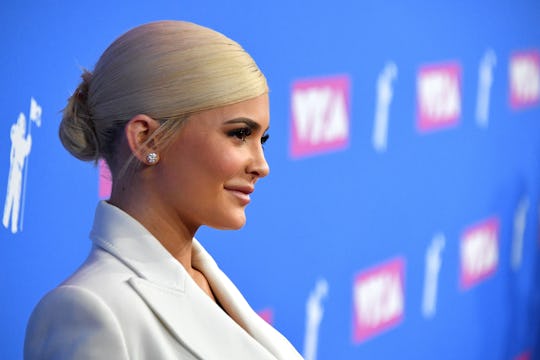 Dia Dipasupil/Getty Images Entertainment/Getty Images
Kylie Revealed Why She Named Her Daughter Stormi
There are many mysteries in life that mere mortals can't solve: the meaning of life, if humans are alone in the universe, why did Kylie name her daughter Stormi? Thankfully, that one is easily solved.
The topic came up in an interview where Kim Kardashian West asked Kylie Jenner questions for Evening Standard. Kylie ultimately said that Stormi "picked her own name":
I really don't know how we thought of Storm. Her dad insisted it was him, but I feel like it was me. And that kind of just stuck with us. And then I didn't really like just Storm — I didn't feel like that was her name. So then it became Stormi. And it just stuck. I feel like there were a lot of other names that I might have even liked better to be honest, but I feel like Stormi picked her own name, like it was just her name.
That's some pretty strong will for an infant. When she was born, though, fans had their own theory about why her name is Stormi. Stormi's father, Travis Scott, has a song called "Butterfly Effect." This is in reference to the chaos theory that states that a small change somewhere can result in a complex change somewhere else: a butterfly flapping its wings can cause a storm. Ergo, Stormi.
I'm not going to lie, that's a pretty cool theory. Then again, Kylie didn't go into detail about why Storm/Stormi was on the table between she and Travis Scott, so perhaps fans were on to something when they figured out that explanation. Kylie reportedly trademarked Stormi's name and said it inspired her makeup line "The Weather Collection." Kylie revealed in an Instagram story at the time, "I've worked on this pretty much my entire pregnancy ... Right after we chose Stormi's name, her name really inspired me." The collection features product names like "Calm Before the Storm" and "Eye of the Storm," so it's clear Kylie kept her daughter in mind when in the creative process.
The Evening Standard sister-to-sister interview also revealed details about how Kylie is adjusting to being a new mother. When Kim asked about challenges of early motherhood, Kylie actually said it hadn't been challenging. "I feel like it's just been so amazing, and so much fun. I'm learning so much more about myself and life, and it's been such a great experience," she told Kim. "Of course there's hard times and stuff… even in the beginning, just not sleeping, the nights, like, baby blues… and all the ups and downs. And also even when I'm here it was so hard to leave this morning. I'm like, 'I'll be right back, I'm so sorry, I have to leave!' and she doesn't even know what's going on. I think about her all the time, anywhere I am. I would rather be with her or wish she can come everywhere. I can't wait till she can come everywhere with me, because right when she's old enough I'll bring her everywhere."
Well, I'm sure juggling a $900 million fortune as well as a baby isn't easy, but Kylie apparently loves it. Seeing as she kept the pregnancy private and doesn't often share photos of Stormi on Instagram, her social media of choice, it seems like she keeps the two separate pretty well. Keeping Up With The Kardashians and Kylie Cosmetics are her public life; Stormi is her private life. Fans can see if the adorable baby makes an appearance on KUWTK when it airs Sundays on E!.