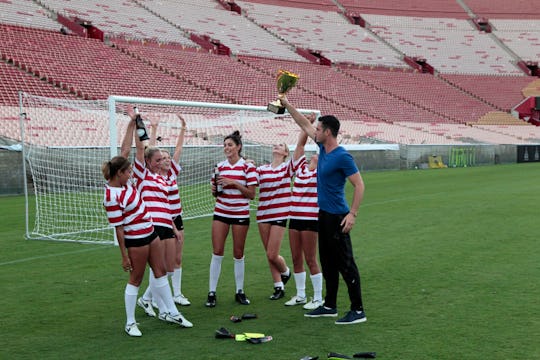 ABC/Rick Rowell
Why Did Lace Leave 'The Bachelor'? Her Exit Was Surprisingly Low-Key & Classy
A huge bombshell was dropped on everyone's favorite reality show this wek. On Monday's episode of The Bachelor, everyone's favorite villain, Lace Morris decided to leave the show, after seemingly having a big change of heart. But why the hasty decision when Lace was keen enough to steal (yes, literally steal) the first kiss of the season from Bachelor, Ben Higgins?
From the moment Lace Morris stepped out of the limo this season, sinister music hummed in the background and we knew, this show had just gotten interesting. Fast-forward to the first rose ceremony, and Lace was already butting heads with the other girls, calling Becca out for being a virgin, and earning the coveted award of that girl who had way too much to drink on the first night. But in case she didn't make enough of an impression, Lace decided in her not-so-sober state to pull Ben aside and berate him for not making enough eye contact with her during the rose ceremony. (Yep, I'm still shocked with that one too.)
Going into the Monday, Jan. 18 episode, rumors were already swirling with many speculating that the drama queen front runner might dip out before Ben even got the chance to turn her down. After not getting along with him last week (I mean, hello, we could feel the awkward tension during that balcony convo through our TV screens) and barely making a blip on Ben's radar, Lace decided to leave.
According to the Inquistir, Lace's exit comes after tensions build in the house, causing Lace to "reach the end of her dynamite stick," as fellow contestant Caila put it. After Jubilee stole Ben despite getting a rose, the girls were out for blood, with Amber leading the tirade against Jubilee for joking about no longer wanting the date. Where was Lace in all of this? Stewing, and waiting to steal the show, as she typically does best.
Before the rose ceremony even started, a teary-eyed Lace pulled Ben aside to tell him that she needs to work more on herself before she decides to pursue love. Um, wait. Did Lace actually do something admirable?
I couldn't help but have the feels for Lace when she left. I mean, how easy could it be to get to know a guy with 20-something other women also vying for his attention? We hear you honey.
Naturally, Twitter had quite a bit to say about Lace peacing out.
And some Bachelor fans were totally on her side.
All we can say is, do you girl. We'll look forward to seeing you on season 3 of Bachelor in Paradise.
Images: ABC/Rick Rowell