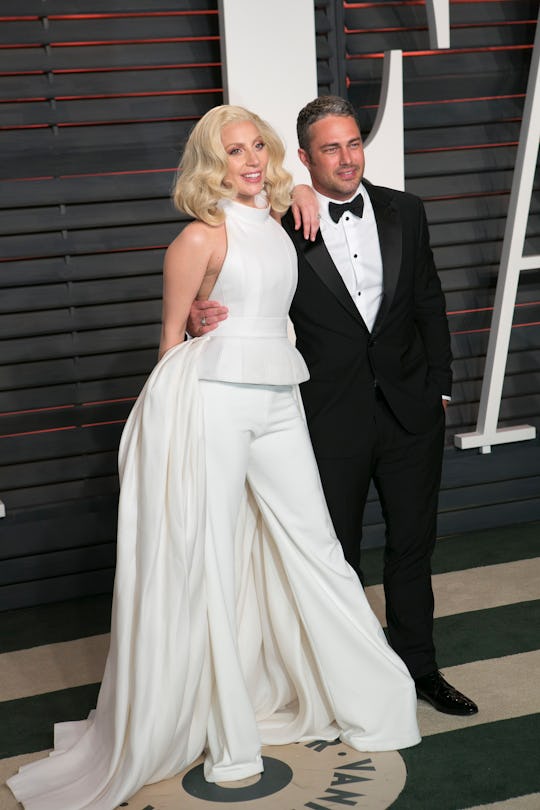 ADRIAN SANCHEZ-GONZALEZ/AFP/Getty Images
Why Did Lady Gaga & Taylor Kinney Break Up? They Called Off Their Engagement
It's a bad year for relationships. According to TMZ, Mother Monster Lady Gaga and her fiancé, Taylor Kinney, broke up earlier this month. Although the couple has yet to confirm the news, sources told TMZ that the pair did indeed call off their engagement, and Gaga has been photographed without her engagement ring lately. She was also seen alone in Malibu recently (sans ring), on the same day as Kinney's birthday celebrations back at home. So why did Gaga and Kinney break up?
Unfortunately, there's been no word yet on who called it quits on their five-year relationship. Considering neither of them have officially confirmed the split, either, they could just be on a break, right? (Cue every single fan of the couple crossing their fingers.) But the signs don't look too good: they've been noticeably missing from one another's social media pictures lately, and Gaga appears to be in Cabo now without any signs of Kinney.
The couple got engaged on a snowy Valentine's Day in 2015, according to People. The 35-year-old actor proposed to Gaga with a heart-shaped diamond ring, four years after meeting her on the set of her music video, "You and I."
Soon after TMZ broke the news, People confirmed the split (although Gaga and Kinney's reps didn't comment on the rumor). A source also told Us Weekly that Gaga's trip to Cabo was a result of the break-up, calling it "a girl's trip to get away and get over it." The unnamed source also said, "She was really crushed."
News of their break-up has spread quickly, and many fans have weighed in on the couple's split with both sadness and shows of support:
In the meantime, Gaga has been keeping herself busy. During her time in Cabo San Lucas, she stopped by an orphanage — Casa Hogar — to spend some time with the kids. She also sang them an a capella version of "Born This Way" to the boys before taking a quick ride on a skateboard.
Gaga's trip to Casa Hogar also came just after she spoke to the U.S. Conference of Mayors with the Dalai Lama in June, so she's clearly been keeping busy with her share of compassionate projects.
According to Us Weekly, this isn't the first split between Taylor and Kinney — between May and June 2012, the couple briefly broke it off before quickly getting back together. Whether the break-up is short-lived or permanent this time around, hopefully they're both doing well and doing what's best for them.