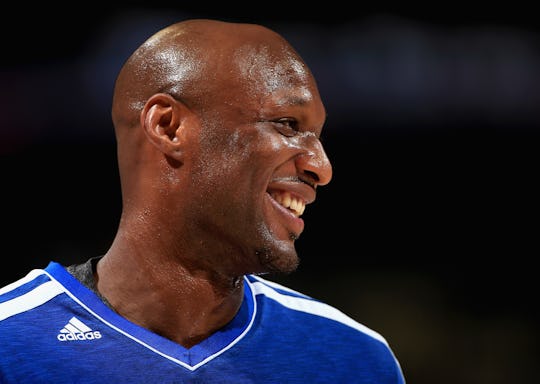 Doug Pensinger/Getty Images Sport/Getty Images
Why Did Lamar Odom Enter Rehab? He's Looking Out For His Own Well-being
According to a report by E! News on Monday, retired basketball player Lamar Odom has entered himself into rehab. The news comes one year after Odom was hospitalized after being found unresponsive, unconscious and in critical condition in October 2015; His subsequent recovery was viewed as miraculous by his close family and friends. So, why did Odom enter rehab again? E! News has claimed that it was his own decision to check in, and that he was looking out for his own well-being.
Romper has reached out to a representative for Odom in regards to reports that he has entered rehab and is awaiting a response.
Odom, who started his career playing for the Los Angeles Clippers, has entered rehab in San Deigo, California, E! News reported. TMZ claimed that he's reportedly been in rehab for four days and has plans to stay there for an extended period of time.
Last year October, Odom was reportedly found unresponsive in a brothel in Nevada. He was hospitalized in Las Vegas, and then transferred to Los Angeles to continue his recovery.
Odom married reality TV star Khloe Kardashian in 2009. Kardashian filed for divorce in December of 2013, according to TMZ, but withdrew the petition when Odom was found unconscious last October. The reality star filed for divorce for a second time last May; The divorce was recently finalized and will be legal on December 17, TMZ reported.
During his hospitalization, after he was found unconscious last year, Odom's family shared updates about his condition. At the time, his aunt, JaNean Mercer, said in a statement to E! News that his progress was promising.
"To our overwhelming delight, Lamar's courageous improvement continues on the incline in Los Angeles. He is beginning to gradually flourish both mentally and physically," she said. " His use of speech has increased and he's more cognitively responsive. His medical team has executed an aggressive therapy regimen to aid in his progress."
As The Huffington Post reported last year, Kardashian released a statement following Odom's hospitalization, sharing her appreciation for the "...outpouring of love and endless prayers" Odom received. She also thanked the doctors and nurses who treated Odom at Sunrise Hospital in Las Vegas for "their kindness and diligent work."
Since Odom's recovery following his critical condition last year October, varying reports have surfaced about his continued progress. He memorably made his first public appearance back in February at Kanye West's Yeezy Season 3 fashion show.