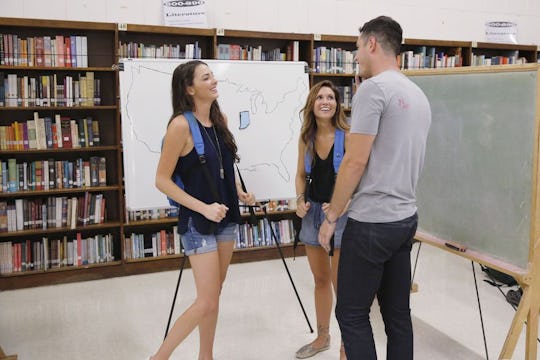 ABC/Greg Zabilski
Why Did LB Leave 'The Bachelor?' Her Sudden Exit Was Actually Pretty Classy
When it comes to love and relationships, sometimes it's better to get out while the going is good. On Monday's episode, Lauren Barr (or 'LB') decided to leave The Bachelor on her own. So what made her go?
Barr is a 23-year old fashion buy from Oklahoma and according to her ABC bio, she's into taking risks. Not one to shy from a challenge Barr once joked that she was treated for constipation while on a vacation in Germany. She even calls joining a sorority in college one ("so not me!" she says). She came onto the show looking for love and believes that marriage is about friendship. "They are your best friend and you always put them before yourself," the contestant said in her official bio. So it's not like she wasn't into the whole happily ever after thing.
Barr and her teammate did pretty well in the episode's high school themed group date (they at least put Indiana in the right place). But after tonight's first one-on-one dates, she just wasn't feeling it. Probably because her date got cut short by Lace who cut in to get a second round of chit chat with him. Also according to her bio, she hates when dates don't pick up the bill. Was it because he smooched Jennifer and JoJo? Could she just not listen to Lace anymore?
Sort of! During the rose ceremony she was nervously ruminating to the cameras in a one-on-one interview that it was hard to make yourself known and that the group dates made her question herself. So when she was called up to get her rose, she asked to step aside. In the most non-dramatic way possible. Pulling Ben into a nearby hallway, LB explained,
Can I talk to you for a second? Sorry, I just want to talk to you...I don't want to cause a scene..it's really hard for me to be here and I just don't know if i can do it.
Yes, if you don't want to make a scene, The Bachelor is not for you. Still, die-hards were feeling lots of feels about her departure:
It was quite possible the classiest thing that has ever happened on The Bachelor. Even if she did ruin some people's Bachelor fantasy bracket:
For his part, Ben took it on the chin. He said that he wanted everyone to "feel empowered and speak up when this whole situation" became too complicated or pressured. "That's what LB just did," he added.
It's not common for a girl to get a rose and reject it. But props to LB for knowing that it just wasn't going to be her thing. That means more Ben for the rest of us. And one less Lauren to remember.
Image: ABC/Greg Zabilski