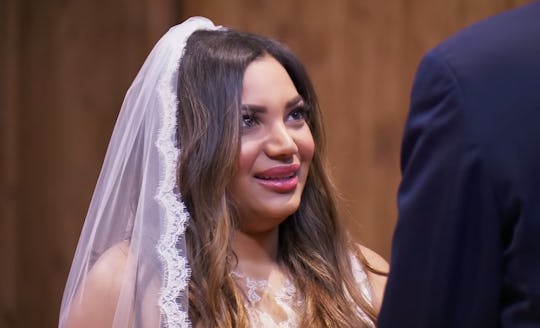 Lifetime/YouTube
Mia's Arrest On 'Married At First Sight' Could Lead To Divorce
On Married at First Sight sometimes the couples make their relationship work. Other times, you quickly find out that the person you just married isn't the person you thought they were. That's what happened to Tristan Thompson, and no not the one who has a baby with Khloe Kardashian. This Tristan married Mia Bally at first sight and only a week later she was arrested. So why did Mia from Married at First Sight get arrested?
Mia's ex-boyfriend, Jared Evans, accused her of stalking him. She had three charges of stalking and one count of credit card fraud against her. Mia denied these allegations to Tristan, but he was still rightfully shocked. "I am feeling a sense of disbelieving disbelief as I am reading this police report," he said on the show while looking at Mia's warrant.
Though their relationship was new, Tristan had begun to develop real feelings for Mia, but this arrest could change everything. "I was actually really falling for Mia—and falling for her hard," he said. "Now this document is showing she may be a stalker and may have committed credit card fraud on her previous boyfriend."
Mia, however, attempted to explain the arrest away, claiming it was a case of mistaken identity. The charges were dropped only two days after she was arrested and Tristan believed her story but he told producers he still had "a lot of questions," and those questions will come in the next episode.
In an exclusive sneak peek on E! News, Tristan is seen having a sit down conversation with Pastor Calvin Roberson, discussing his concerns about his wife. "It's been tough. Things are going from the wedding excitement to basically bombs being dropped every day about something new about Mia," he explained. "Secrets kill and I said Mia, please just get it all out there because the trust had been broken. What else had you lied about? What else are you keeping from me?"
He continued on to say, "To me, marriage should be built on trust and honesty. If you have that, I believe there's no problem that you can't handle. But Mia has been lying to me and it's hardly been a week. With that trust broken, I'm just not sure if I'm able to stay in this marriage."
Tristan questions what else Mia could be hiding and if it is worse than what he's already found out. Hopefully, Mia is being truthfully when she says she's told Tristan everything he needs to know, because if something else comes out that may be the last straw for Tristan and he could decide to file for divorce. Hopefully, it doesn't come to that, but right now things certainly aren't looking good for the newlyweds.
In another sneak peek obtained by RadarOnline.com, Tristan and Mia are seen sitting down with the show's experts to discuss what's been going on with the couple and for them to get some advice. Though Mia had previously claimed that her charges were a case of mistaken identity, in a preview she reveals that she was lying. In the sneak peek, the experts decide to speak to Tristan and Mia separately and together to get to the bottom of things.
"We want to support the marriage, but we also want to support these people who have gone through a very difficult situation," Dr. Schwartz said in her confessional. The experts have agreed that if Tristan and Mia decide to divorce they will support their decision, but is that what they will decide? You'll just have to tune in to find out.
Married at First Sight airs on Tuesdays at 9 p.m. ET on Lifetime.