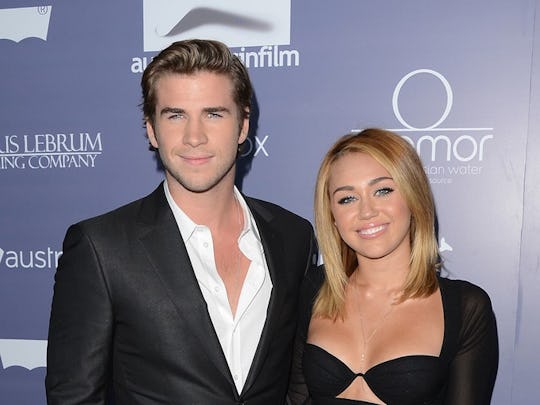 Jason Merritt/Getty Images Entertainment/Getty Images
Why Did Miley Cyrus & Liam Hemsworth Break Up In The First Place? They're Back On
News broke on Thursday that Miley Cyrus and Liam Hemsworth are not only back together, but engaged and cohabitating. But this isn't the first time Liam's proposed to Miley; the pair got engaged in 2012, three years after meeting on the set of The Last Song, but the engagement lasted only 16 months. So why did Miley and Liam break up the first time around? Miley revealed to Barbara Walters in a 2013 interview that she just wasn't ready for marriage, according to Celebuzz.
"I was so scared of ever being alone, and I think conquering that fear this year was actually bigger than any other transition that I had," she told Walters. "I don't ever want to have to need someone again, where you feel like, without them, you can't be yourself." Walters argued that that feeling was "called being in love, that's called maybe wanting to be married to someone for the rest of your life. You don't want that?" Cyrus pointed out that she was only 19 when she got engaged, and that she thought she'd want to get married when the time was right.
It's a great point, and I applaud Cyrus for making it. Far too many young adults get married when they're much too young to be making such a serious commitment, and it showed great wisdom on Cyrus' part to recognize that at 19, you're really still just a kid.
Hemsworth has stayed mostly silent on the subject of the breakup, although he did touch on it briefly during an interview for the November 2015 issue of Men's Fitness (when, rumor has it, the pair were already back together, but keeping it under wraps). "You fall in love with who you fall in love with; you can never choose," said Hemsworth. "I don't think those feelings will ever change. And that's good because that proves to me that it was real. It wasn't just a fling."
Hemsworth is now 26 and Cyrus is 23. She's done a lot of growing up in the past few years, and while she's still a little wild, and probably always will be, it looks like she's now in a better, more mature place in life.
Image: Jason Merritt/Getty Images Entertainment/Getty Images