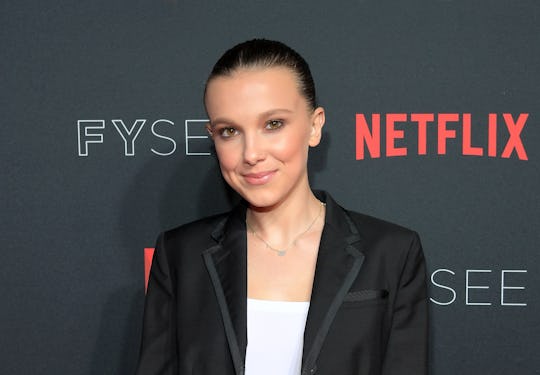 Charley Gallay/Getty Images Entertainment/Getty Images
People Are Rallying Around Millie Bobby Brown After She Was Bullied Off Of Twitter
Stranger Things star and innocent 14-year-old Millie Bobby Brown quit Twitter this week, and while she hasn't shared the reasoning behind her decision, it's widely assumed that it was in response to a particularly cruel and unfunny meme centered around her that recently gained popularity on the social media platform. Trolls are "jokingly" posting photos of Brown featuring homophobic, racist, Islamophobic, and ableist captions, according to The Wrap, sometimes accompanied by the hashtag #TakeDownMillieBobbyBrown. Others are creating Photoshopped screenshots of violent, offensive messages purported to be from the young actor, and fabricating outrageously defamatory and false stories about being victimized by Brown.
To be clear, there is absolutely no evidence that Brown has a shred of ill will for anyone, and the memes are so over-the-top, a reasonable person might immediately infer that they're fake. In reality, Brown is an LGBTQ ally who proudly supports GLAAD's Together campaign, which encourages intersectional solidarity. And although her personal account has been deactivated, she still has her second account, @Milliestopshate, which is dedicated to anti-bullying advocacy, although she hasn't posted anything since December. Her Instagram account is still active, as well, but she recently disabled the comment section. Brown's rep did not immediately respond to Romper's request for comment.
So why would anyone try to make a such sweet young woman seem like a raging, violent bigot? Apparently, that's the joke. You've taken irony too far, Twitter. Too damn far. It all started in November, according to Know Your Meme, when a Twitter user tweeted a patently absurd story that claimed Brown tore a hijab off of her head and "stamped on it." The account has since been suspended, but not before multiple users started responding with their own ridiculous claims about fictional run-ins with the actor, eventually spawning the aforementioned hashtag.
Lately, the homophobic bent on the meme has experienced a resurgence, just in time for LGBTQ Pride Month. Several outlets have reported that the memes are actually being created and posted by LGBTQ people; Vox speculated that "for some, laughing at homophobia in such a ridiculous scenario is a way to undermine and cope with the very real homophobia in the world today." The same Vox article also warns that the joke could turn all too real, like how Pepe the Frog went from "an ironic joke about an awkward frog" to a mascot for actual anti-Semites. The homophobes of Twitter may never embrace Brown as an ironic mascot, but that's far from the only concern.
The only evidence to support the notion that this is some sort of in-joke are a scant few tweets from people who obviously do not represent the LGBTQ community as a whole. Some of the participants may actually be LGBTQ, but it's highly likely that some are actually homophobic, and for them, the joke is that they're getting away with writing such hateful messages, and perhaps even tricking real LGBTQ people. And regardless of who's making the memes, they're hurting real LGBTQ people, as well as an innocent teenager who's done nothing to deserve it.
"Stop all this Millie Bobby Brown homophobic memes," tweeted user @elevenkaspbrak. "It's violence against HER and against all the lgbt+ community. You're hurting a literal teen girl at the point to even make her deleting Twitter or disabling her account."
"Hard to swallow pill," wrote @legdersolo, "That Millie Bobby Brown meme isn't funny at all and using it only proves how f*cking stupid, idiotic and mean you are without caring about other people's mental health, specially when it comes to a kid who has been sexualized and harassed by the media."
But in my opinion, @avengerslang said it best in a four-tweet thread, in which he not only called out the harm the meme was causing Brown's career, but how hurtful it was to the LGBTQ community.
please just unfollow me if you find the millie bobby brown memes funny.VIOLENT HOMOPHOBIA IS NOT A JOKE.
it's harming her mental health and her career. a fourteen year old who openly supports the lgbt community is effectively having her life harmed by that same community because they don't know when to stop.
not to mention that people don't always realise it's a joke? there are people just using it as an excuse to be homophobic/racist because people will laugh it off as another Wacky Meme!
i'm only allowed to get married in 25 countries out of 195. violent homophobia exists in all 195. and yet people are acting like it's hilarious to pretend a 14 year old wants us dead for existing.it's only funny to people with zero empathy.
While this terrible joke might provide a moment of levity to a few shameless trolls, it's actively harming many others. Let's hope Twitter steps up its game to shut this down fast.