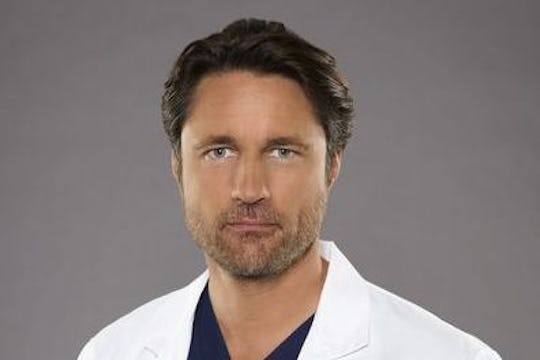 Craig Sjodin/ABC
Fans Already Miss Nathan Riggs On 'Grey's Anatomy'
Many fans are still reeling from the departure of Nathan Riggs from Grey's Anatomy a couple of weeks ago. As a series regular for the past two seasons, Nathan, played by Martin Henderson, was finally being accepted amongst fans as a new love interest for Meredith. However, just when it seemed Meredith was on the brink of finding of her second great love, Nathan left Seattle. So why did Nathan Riggs leave Grey's Anatomy?
Plot-wise, the answer is pretty simple. Nathan's long lost fiancée and sister to Owen, Megan Hunt, returned and she and Nathan rekindled their romance. The two decided to start their life together in Los Angeles, California, with Megan's son, Farouk. But why was this the direction the show's writers decided to take with the Nathan/Megan/Meredith love triangle? Henderson told Deadline he expected his storyline to be wrapped up this season because he had a short-term contract with the show, and it was was always intended that Megan's return would be tied to his exit.
"The triangle played out nicely, the way they gave perspective leading up to her disappearance, the mutual infidelity; the way it was handled was interesting," he said. "It's been a couple of fun years on the show."
Henderson also said that he did feel bad for fans who liked Meredith and Nathan together, since he knew it wouldn't last. However, he thought the way the love triangle played out provided "nice drama" for the show. Even so, just because Nathan and Meredith's relationship is over, that doesn't necessarily mean Nathan won't ever return to Grey Sloan Memorial Hospital.
When asked during the Deadline interview about a possible return to Grey's, Henderson said he'd "never close the door" on it, adding:
In my mind it's been left open-ended enough," he said. "If the opportunity came in the future with an interesting storyline, I'd be happy to explore. I definitely feel connected to Shonda [Rhimes] and am grateful for the opportunity she has given me.
Many fans would definitely be happy to see Nathan back on the show, though probably without Megan and Farouk by his side. While that's unlikely, it would be nice to see some kind of resolution between Owen and Nathan. Though the two seemed to bury the hatchet, now that Owen knows Megan also cheated on Nathan, perhaps Owen can really forgive Nathan for his mistakes. Henderson noted that the door was definitely left open between Owen and Nathan, as Owen didn't end up going with Megan to say goodbye to him.
Whether or not Nathan does ever return, it was fun having him around for these past two seasons. For some reason, Nathan was a magnet for drama and found himself in two love triangles while working at Grey Sloan. First, he got caught between the two sisters, Maggie and Meredith, though he was wildly unaware of Maggie's feelings at first. And then, of course, there was the whole Megan and Meredith debacle.
Besides that, we also got to see Nathan and Meredith work together to perform miracles on a very turbulent plane and even though Nathan didn't end up being Meredith's next great love, he was the one to at least show her it's definitely possible for her to fall in love again. However, fans shouldn't expect to see Meredith engage in another romance any time soon. Right now, Meredith's too busy kicking butt as a surgeon. She just got nominated for a Harper Avery award for her stellar skin transplant on Megan and now she's setting forth to work on a brand new project. For now, Meredith is happy just working and spending time with her friends and family, and sometimes that's all you really need.
Watch Romper's new video series, Romper's Doula Diaries:
Check out the entire Romper's Doula Diaries series and other videos on Facebook and the Bustle app across Apple TV, Roku, and Amazon Fire TV.