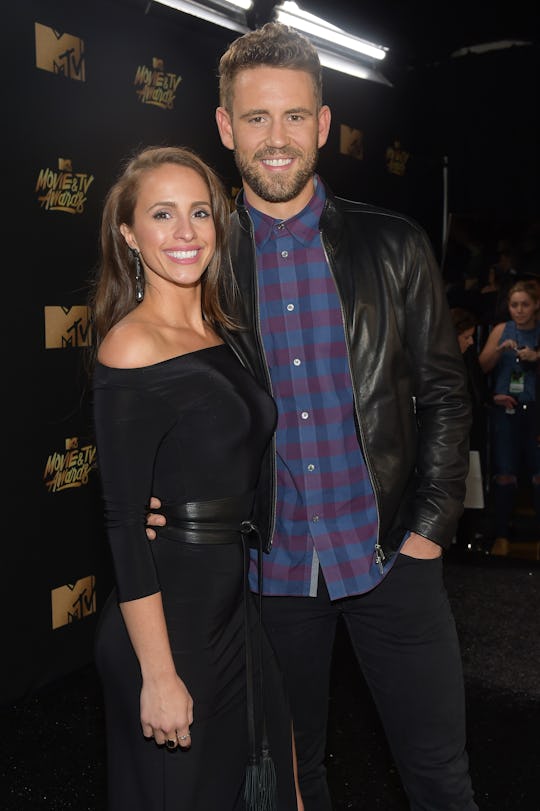 Matt Winkelmeyer/Getty Images Entertainment/Getty Images
Nick Viall & Vanessa Grimaldi Have Called It Quits
Sadly, another couple from Bachelor Nation has decided to end their relationship. This time it's Nick Viall and Vanessa Grimaldi, who got engaged at the end of Nick's season. So why did Nick Viall and Vanessa Grimaldi break up? In their statement to E! News they say that they are heartbroken.
After coming in second place two times in a row on The Bachelorette, Nick then tried to find love on Bachelor in Paradise with no luck. Before the show finished airing it was announced that Nick would be the next lead for The Bachelor. Nick and Vanessa hit it off right away. During their first one-on-one date, if you remember, they got to bounce around in an anti-gravity chamber like extremely attractive astronauts. Vanessa puked from the motion sickness, which ironically seemed to be the thing that brought them together, as it gave Nick an opportunity to stroke her back comfortingly and tell her he didn't care that she threw up. From this moment Vanessa became the clear front-runner for Nick's heart.
Sadly, it looks like their connection wasn't meant to last. They are now just the latest relationship formed on The Bachelor franchise to end in heartbreak and tears.
In their joint statement, the couple said:
It's with a great amount of heartbreak for the both us as we have decided to end our engagement. We gave this relationship our all and we are saddened that we did not get the fairytale ending we hoped for. We will continue to be there for each other no matter what. This hasn't been an easy decision, however, as we part ways, we do so with lots of love and admiration for each other.
Sadly, many relationships that start on this show end in heartbreak. After 21 seasons of The Bachelor, 13 seasons of The Bachelorette and four seasons of Bachelor in Paradise, only a handful of couples have made it to the end. Despite the contestants' insistence that people really do find love on this show, there's only a small minority that this actually works for. It's an odd microcosm of a situation, and finding someone to love and honor you for all of time is hard to do in the best of circumstances. Nick and Vanessa were engaged for five months before they broke things off.
I wanted to see them work, but unfortunately sometimes it doesn't work out.