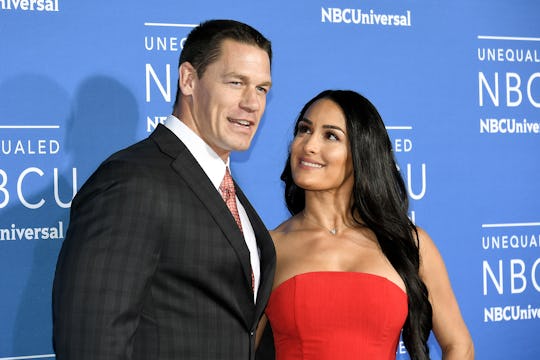 Dia Dipasupil/Getty Images Entertainment/Getty Images
This Could Be Why Nikki Bella & John Cena Broke Up Again
It's no secret that relationships are hard work, and sometimes, the courage it takes to admit when one isn't working is harder to muster up than when it is. After getting engaged in the spring of 2017, ending their engagement a few weeks before the wedding but then reconciling one again, Nikki Bella and John Cena broke up again, officially cancelling their wedding for the second time.
During last night's episode of Total Bellas, according to People, Bella discussed why she wants to postpone her nuptials to Cena after their recent reconciliation. It begins with Cena not being able to attend their final venue meetings, a move about which Bella's twin sister, Brie, isn't happy. When Bella confesses she isn't sure where she and Cena stand, according to People, her sister's husband suggests that they postpone, to which she explains that Cena is either in for all or nothing.
"It's tough cause he's like fighting really hard for me… The tables have kind of turned," Bella explains in the preview. "I didn't give myself long enough the first time we broke up because I got so excited he wanted kids."
Back in May, Us Weekly reported that the couple originally called off their wedding, citing that Bella wanted to have children and Cena did not. A few weeks later, it was revealed that the couple was indeed back together, as Cena vowed to have his vasectomy reversed to save their relationship, as People reported.
Though neither Bella nor Cena gave explicit reason for why the relationship ended again, Bella alluded to their past problems being too much and feeling "exhausted" trying to make it work.
In another clip for Sunday's episode of the show, Bella opened up to her sister and mom about her cancelled wedding day. "I was so excited for it," she said. "John and I called the wedding off and I don't know if that's going to be something that I'm going to really regret. I might have just made the worst decision of my life, or I might have just made the best decision of my life... and I guess only time will tell." She explained, according to Cosmopolitan, that the breakup was unexpected, but that because it was happening for a second time, she felt as though there was "a reason."
Bella's twin sister, Brie, responded by agreeing that she felt it was the right choice at that point. "It's weird because I felt like I knew it was going to happen, and I felt like it needed to happen. I've seen a sadness in you," she said, according to People. Bella nodded, as the publication reported, but responded:
I don't want to look back and think I chose to be unhappy, and I don't want to look back and think I lost the greatest thing I ever had.
When the two broke up initially, it was clear that the reason was not so much about their relationship, but that they had different goals for the future. In another episode of Total Bellas, according to Page Six, Bella and Cena sat down at dinner together and discussed what it would take to be together. Cena conceded that he'd reverse his vasectomy and give her children if that's what she really needed, as Page Six reported.
At the end of the episode teaser, as People reported, Bella revealed that Cena had left it up to her to decide about the fate of their relationship. "He's waiting for my final decision," she tells her sister, according to People. "I think I know it, but I'm just afraid to say it... I just don't want to hurt him... We've had this amazing love story and it's just come to an end."
Only time will tell what happens next.