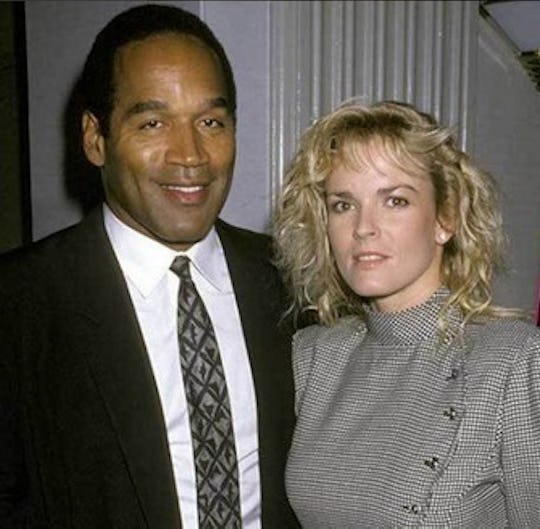 Why Did O.J. Simpson and Nicole Brown Simpson Get Divorced? It Certainly Wasn't Simple
If you're a fan of FX's American Crime Story: The People Vs. O.J. Simpson, then you've probably wondered why O.J. Simpson and Nicole Brown-Simpson got divorced in the first place. Their marriage lasted seven years, and her gruesome and infamous murder wasn't the reason why it ended.
Simpson was actually charged with spousal abuse in 1989, just four years after he married Brown. He allegedly busted down the door to her house and hit her. "We got into an argument which escalated and the police were called. Fortunately, neither one of us required any medical treatment," Simpson said in a statement his rep read shortly after the incident.
In contrast, a police report said that officers had arrived to hear Brown scream, "He's going to kill me," and showed that she had been treated at a hospital for a black eye, bruises, and a cut lip.
Mr. Simpson was charged with spousal battery, but the next day, the report said, his wife sought to drop the charge. He ultimately pleaded no contest and was fined $700. The NFL player and the mother of his two children stayed together.
However, that situation obviously wasn't the end of their relationship issues, as they ultimately divorced in 1992. He was the one who initially took action and filed, but time would tell that he was anything but done with her.
Even though they weren't legally together anymore, the two still spent a lot of time together, according to The New York Times. In addition to attending their children's gatherings together, they reportedly still went on dates and vacationed together in Mexico with the kids. According to the Times, Simpson still talked about his ex-wife often, including the possibility of remarrying her, although he was dating other women at the time.
Two years after their divorce, Brown and her friend Ron Goldman were found dead in her Los Angeles home. Of course, most of us know where this story goes from there. Simpson was charged with her murder, but was later acquitted, sparking a huge controversial case that's lingered in the media for years.
While he was acquitted in the criminal case, Simple was later found liable for the deaths in a civil suit brought on by the two victims' families. Simpson was later jailed for armed robbery at a Las Vegas hotel in 2007. He's been behind bars since then.
This whole story and the intense trial is being portrayed on FX's The People Vs. O.J. Tune in on Tuesday nights at 10 p.m. You'll be obsessed, promise.