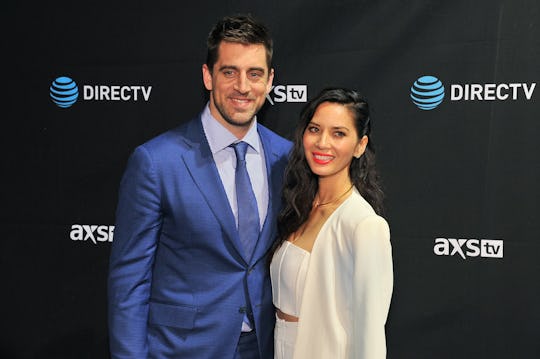 Steve Jennings/Getty Images Entertainment/Getty Images
Why Did Olivia Munn & Aaron Rodgers Break Up?
Actress Olivia Munn and Green Bay Packers quarterback Aaron Rodgers are calling it quits on their relationship. The couple, who started dating at the end of 2014, have broken up just two months after engagement rumors circulated in January, after Munn was spotted wearing a diamond ring on her left hand. With that in mind, it's not totally unreasonable to ask: why did Olivia Munn and Aaron Rodgers break up? Their split seems a little unexpected, and people have questions.
A source reportedly confirmed to People exclusively that Munn and Rodgers, "have amicably ended their relationship of three years," and that the couple "remains close friends and wish nothing but the best for each other moving forward." So that seems like a positive end to the relationship.
US Weekly mentioned Rodgers' estrangement from his family after he began dating the actress in 2014 in its coverage of the breakup. The outlet also quoted a source in its piece about the news who said "he ended up choosing Olivia over his family." Could that have anything to do with the sudden breakup?
NBC Sports also reported that Munn has been seen as a "potential detriment to Rodgers' play" in the past — citing the fact that she called out ESPN.com's Rob Demovsky back in 2015, "for repeating the suggestion of an agent that dips in play generally lead to questions about off-field drama in a players' life." Off-field drama could certainly include a relationship. Could either of those factors have come into play as well?
People reported that Rodgers would also rarely talk about the relationship in public. Despite him trying to keep mum about Munn in the past, the social media world has reacted to the news in all sorts of ways (because when doesn't the Internet react to the newest celebrity split?).
"Aaron Rodgers and Olivia Munn break up," Twitter user @brennen_rupp posted. "Wait. Now who are Packers fans going to blame if Aaron Rodgers has a bad game?," referring to the tendency of some Packers and other football plans to blame Rodgers' personal romantic life for a less-than-stellar performance on the field.
And writer and radio commentator @ClayTravis tweeted, "Damn, true love loses again. Aaron Rodgers and Olivia Munn have broken up. Now maybe Aaron will talk to his family again."
Though there is no evidence that Munn is directly responsible for Rodgers' strained familial ties, most media outlets that reported on the breakup brought up the controversy in covering the news, as have fans talking about the breakup on social media.
Sports Illustrated summarized the situation in its article about the split, writing, "the discontent became public when Rodgers's brother, Jordan, was on ABC's The Bachelorette, as the show made a point of emphasizing Aaron and Munn's absence at a visit to the Rodgers family's home. Rodgers's father, Ed, confirmed to The New York Times in January that Aaron has not spoken with his family since late 2014, around the time he began dating Munn."
That controversy certainly seemed to be a big part of the discussion of the break up. Twitter user @QueMarlon_ tweeted a humorous, celebratory wrestling GIF in response to the news and said it was, "Aaron Rodgers' family after him and Olivia Munn split up"
The couple, who had been together for three years, appeared happy in recent days. Hollywood Life reported that, in January, Munn set off engagement rumors when she started wearing a diamond ring on her left hand. But the actress and football star never confirmed whether they were engaged.
Hopefully the two do remain "close friends," as the People source reported they are. Breakups can be rough, and walking away as friends is one of the best outcomes for any couple that splits up. Best of luck to both Munn and Rodgers now that their relationship has come to an end.