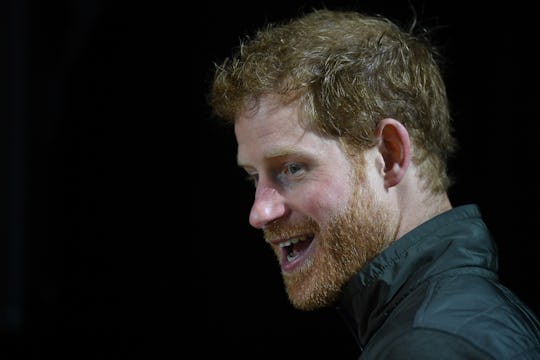 Pool/Getty Images Entertainment/Getty Images
Why Prince Harry Wanted To Give Up His Royal Title
For those of us who grew up with Disney princesses on TV and paper crowns in our dress-up boxes as kids, being part of a royal family has always seemed like a pretty decent way to get through life, and our collective obsession with all things royal hasn't exactly slowed down as we've grown up, either. (The royal family is still in the tabloids all the time.) It's a world many people would love to be a part of — which is exactly why the world was so shocked to hear Prince Harry wanted to give up his royal title at one point.
Speaking to The Daily Mail on Sunday, the 32-year-old prince said he had once "wanted out" of life as part of Britain's royal family. While most people in the spotlight have expressed a desire for anonymity, Harry said it came down to more than just that: He was forced to grow up in the public eye after losing his mother at 12.
"William and I were 14 and 12 when our mother died and I had to walk a long way behind her coffin, surrounded by thousands of people watching me while millions more did on television," Harry told Newsweek on Wednesday. "I don't think any child should be asked to do that, under any circumstances. It certainly wouldn't happen today."
An estimated 2.5 billion people around the world tuned in for Princess Diana's funeral, according to History.com, and a moment of grief that should have been incredibly private for both of her young sons was put on display around the globe. The role that Diana's fame played in her death can't be downplayed, either — the night of her death, she was trying to avoid the relentless paparazzi attention that followed her wherever she went.
Harry continued:
Instead of dealing with it I buried my head in the sand and let everything around me tear me to pieces. ... My search began when I was in my mid-20s. I needed to fix the mistakes I was making and what was going on with me.
Harry enjoyed several years' reprieve from public life in 2004, when he started his military career. "Being in the army was the best escape I've ever had," he told Newsweek. During his decade in the military, he went on two tours of Afghanistan and was eventually promoted to captain.
As he told The Daily Mail:
I felt as though I was really achieving something. I have a deep understanding of all sorts of people from different backgrounds and felt I was part of a team. I wasn't a Prince, I was just Harry.
In 2007, he had to leave Afghanistan only a handful of weeks after arriving, since his position there was leaked by a magazine. "I felt very resentful," he told The Daily Mail. And once he left the army, he wasn't sure exactly what would come next for him.
He considered leaving the royal family, but decided to rework his position within it instead. "I felt I wanted out but then decided to stay in and work out a role for myself," he said. "We are incredibly passionate with our charities and they have been chosen because they are on the path shown to me by our mother."
For now, the prince is happy with his new role within the royal family, but he plans to fiercely protect his privacy — and that of his children, if he decides to have them someday. "Is there any one of the royal family who wants to be king or queen? I don't think so, but we will carry out our duties at the right time," he told Newsweek. "I am determined to have a relatively normal life, and if I am lucky enough to have children, they can have one too."
It sounds like the prince's reasons for wanting to abandon royal life made a good deal of sense. It also seems like Harry's found a way to preserve his privacy while making his own mark on the world — a balance he'll hopefully be able to keep even as his romantic life dominates headlines.