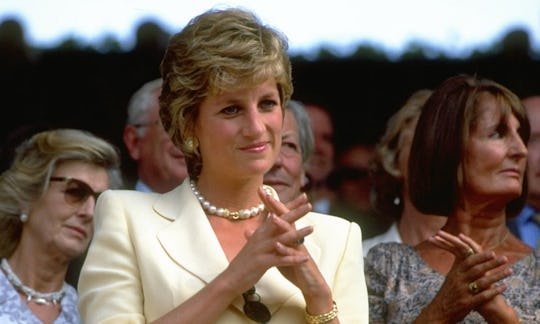 Clive Brunskill/Getty Images
Princess Diana's Marriage Was A Public Spectacle
Almost exactly 20 years after her tragic death, the public is still fascinated by Princess Diana and her marriage. It was one of those things that every person dreamed of — becoming a princess. And for Diana, it happened. So, why did it end, and why did Princess Diana and Prince Charles get divorced? Princess Diana was only married once, but Charles was far from her only love. Princess Diana was married to Prince Charles in a lavish ceremony in 1981, in a dress even more iconic than Kate Middleton's. But the marriage wasn't meant to last.
One biography (Catherine Mayer's book Charles: Heart of a King) claims that Charles was racked with doubt the evening before the marriage and cried "I can't go through with it!" Sources report that Diana knew her husband was in love with Camilla Parker Bowles when they married. Charles would eventually go on to have a relationship with Bowles while he was still legally married to Diana, and eventually married her in 2005. Though their marriage was already troubled by 1985, the couple stayed together at least in part to keep up appearances. Throughout this time Diana struggled with bulimia, and the two both had extramarital affairs. Charles claimed that he was faithful to his wife until the marriage was "irretrievably broken down." The couple officially separated in 1991. Diana also admitted to having an affair while she was still married to Charles. She told the press that she was "unfaithful" with Army captain James Hewitt. "Yes, I adored him," she said.
After all of this, Diana and Charles finally divorced officially in 1996. Though she was now no longer an official member of the royal family, she was still viewed as Princess Di to the world in general, who still adored her. She began a romantic relationship with Dodi Fayed. Fayed was the son of an Egyptian billionaire, and he and Diana were often pictured together in the press. Tragically, he was with Diana in Paris, and the two of them died in the car crash on August 31, 1997 on the Pont de l'Alma.
Diana never got the opportunity to fully expound on her feelings for Fayed, and whether she was really in love with him or not. Perhaps had she lived they would have gotten married, and Diana would have gotten something like the fairytale happy ending she must have imagined for herself at one time. Sadly, Diana died at just 36 years old. Though her marriage was unhappy, Princess Diana inspired the love of millions all over the world. Now her son and his beloved wife are in the public eye, but luckily, they still seem very happy together.